W&M's inaugural deputy chief diversity officer begins her work
Dania Matos may be William & Mary's first deputy chief diversity officer, but her mission is something she wants the entire campus community to share.
"I might have the title, but this is something I want owned by everyone at the university," she said. "It's all of ours. I'm just a steward in partnering with different people here and to help them create more diverse and inclusive spaces."
Matos started at the university March 10, nearly one year after W&M's Task Force on Race and Race Relations released its recommendations, including the creation of the deputy chief diversity officer position.
In that role, Matos will work closely with Chief Diversity Officer Chon Glover to advance W&M's diversity and inclusions efforts, including the creation of diversity action plans for academic and administrative units within the university.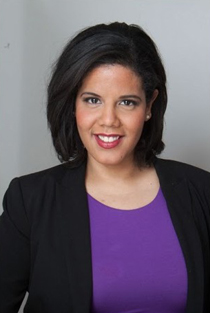 The development of such plans was an integral part of Matos' previous work at Brown University, where she served on the president's leadership and diversity advisory councils. Matos, who received an undergraduate degree in international relations from Brown and a law degree from Catholic University, worked closely with faculty and pulled from her own experience as a student to help create the diversity and inclusion action plans for Brown.
"It was really important for me to keep shaping the spaces I had been in and became really involved in the diversity and inclusion work there to just ensure the place I loved so much and had given me so much continued to give that to everyone," she said.
Matos will also be working with and supporting the university's affinity groups, the IDEA Grant Program, the Diversity & Inclusion professional development workshop series and the annual Diversity & Inclusion symposium, and she will be assisting with the creation of a university-wide Strategic Plan for Diversity & Inclusion. 
"We are beyond excited to have Dania join William & Mary and our staff," said Glover. "This will allow us to expand our work and further move the barometer towards an inclusive university. We have made significant positive strides this year after the report of the Task Force, and with the addition of Dania, we will keep up the momentum moving forward!"
Voice for the voiceless
Inclusion and social justice have long been near to Matos' heart. She grew up in Puerto Rico and received her first diversity training of sorts as a young child when her family prepared to move to the continental United States.
"I grew up in a family that intentionally prepared me saying, 'Look, when we move, these are things you might encounter, and we want you to be well-equipped,'" she said.
As she grew up along the East Coast, including a stint as a child actress in Broadway's "Joseph and the Amazing Technicolor Dreamcoat," Matos would often take a stand when she saw injustice, even if it was someone just being overcharged in a local supermarket.
"My mom always taught me that giving a voice to the voiceless was so important because everybody mattered," she said.
An avid fan of international travel and fluent in three languages, Matos developed an interest in law because she wanted to be able to understand and translate it for various communities in need, she said. While a student at Catholic University, she worked closely with the Innocence Project Clinic, which investigates claims of innocence by convicted individuals.
As a lawyer, Matos worked with private firms in Washington, D.C., in the fields of international trade and environmental law before transitioning to the public sector to focus on indigent defense.
Her passion for diversity and inclusion led her to serve as the executive director of Latinas Leading Tomorrow, a national nonprofit that seeks to empower young, Latina women, and senior advisor for the president and CEO of the Hispanic Heritage Foundation. She was also a member of the boards of the Latin American Youth Center, the Hispanic National Bar Association and the Hispanic Bar Association of Washington, D.C. In 2016, the Embassy of Spain named her a Hispanic leader for her work.
Creating an inclusive W&M
The position at William & Mary appealed to Matos because of the Public Ivy status of the university and the work that was already underway at W&M.
"I read the Task Force on Race and Race Relations' report and knew this was a place where they were being intentional about process, so that completely drew me here," she said, adding that when she interviewed, she felt that "this was going to be a space committed to action."
Since her first day, Matos has been working to meet as many people across campus as possible in order to get a feel for the campus climate.
"I think that's the first step before anything else," she said. "What's our baseline?"
Although she will work primarily with faculty and staff, Matos thinks it will be vital for her to get to know the student body, as well.
"Students really drive this work oftentimes in terms of vocalizing their needs or what they experience," she said. "I think the core of any leading institution is its student scholars, which brings great faculty, great grad students and great staff who want to work with them."
Ultimately, she wants everyone at the university to experience an inclusive community because she believes that diversity — which she said includes not just race but a variety of personal traits and identities — "is the pathway to excellence, and it applies to academic excellence, research, everything."
Although she's the university's inaugural deputy chief diversity officer, Matos isn't thinking too much about being the first; she's concentrating on the job ahead.
"Knowing that diversity, inclusion and excellence are in demand here, that in itself is really exciting, and being able to bring the knowledge, experience and passion I bring to this work I think is important.
"I've experienced what it's like to not be in a diverse and inclusive environment and that gives me a different lens. Now I get to work on ensuring that this doesn't happen here. I bring multiple perspectives to this lens, and I'm really excited about it."