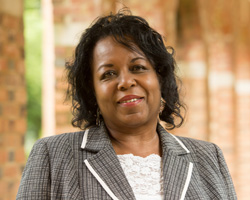 Karen Ely is currently a health physicist at Navy and Marine Corps Public Health Center, Portsmouth, VA responsible for regulating the use of radioactive materials for naval medical and research facilities through the Navy's Master Materials License issued by the Nuclear Regulatory Commission. She is a qualified license/permit reviewer and inspector with the Radiation Health Team responsible for all permitting and inspecting of broad scope and specific permits for the medical and research use of radioactive material worldwide since 2003.
Ms. Ely has worked in the radiation protection field for over 27 years including 14 years in the Radiological Control Office (RADCON) at Norfolk Naval Shipyard for various departments. She is a registered Radiation Protection Technologist (NRRPT) and holds a Bachelor of Science degree in Biology from William & Mary and a Master of Science in Science Education from Old Dominion University.
Previously Ms. Ely served as a middle school science teacher for life science, physical science and earth science for eight years at Wadleigh Secondary School in New York City (District 3). She has a permanent New York State teacher's license and a permanent New York City teacher's license, both for biology and general science grades 7-12. She was recognized by District 3 for perfect teacher attendance for seven of eight years.
Ms. Ely is the mother of two adult daughters and the grandmother of five.