During academic year 2015-16, William & Mary's president and the provost assembled an Advisory Committee to guide the development of the 100th Anniversary celebration. Over time, scores of volunteers came together to make the 100th Anniversary a reality.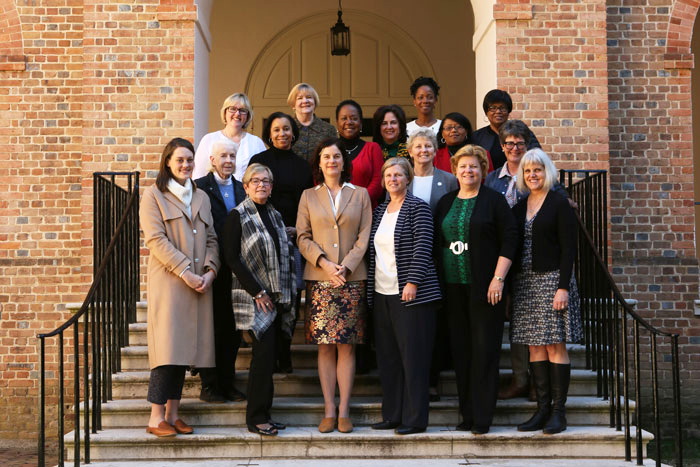 In the photo:
Bottom row (L to R): Carmen Bolt, Cam Walker, Jayne Barnard (Co-chair), President Rowe, Val Cushman (Co-chair), Peel Hawthorne '80, Marilyn Midyette '75, Anne Arseneau '89, Kate Conley
Top row (L to R): Ginger Ambler '88, Leah Glenn, Lee Foster H '13, Jodi Allen Ph.D. '07, Carrie Cooper, Dawn Lambert, Chon Glover M.Ed. '99, Ed.D. '06, Jacqui McLendon
Not pictured:
Anna Engh '89, Sue Gerdelman '76, Elizabeth Losh, Virginia McLaughlin '71, Kim Sims, Eva Wong, Sibel Zandi-Sayek, Janice Zeman
Faculty, staff, alumnae, parents, students, and friends jumped on board, dividing up into task groups to set priorities, assembling teams to deliver on goals, enlisting others to help, conducting "listening tours" to gather additional ideas, and supporting each other in the task of creating something that will, in President's Reveley's words be "powerful, memorable, and do-able."