W&M partners with CDC on mask usage study, results show campus is masking up
New data collected by student researchers show that 97% of William & Mary's campus community is wearing masks in public spaces.
The university is one of roughly 60 institutions partnering with the Centers for Disease Control and Prevention to conduct an eight-week mask observation study as part of the CDC's Mask Adherence Surveillance at Colleges and Universities Project (MASCUP). Twenty-one student researchers will collect 400 observations per week on campus mask use and compliance. 
The purpose of the study is to estimate the percentage of the campus community that is wearing masks correctly, which will support the CDC and Institutions of Higher Education in making data-based decisions about their COVID-19 response – and will also provide valuable data for William & Mary's own Public Health Advisory Team.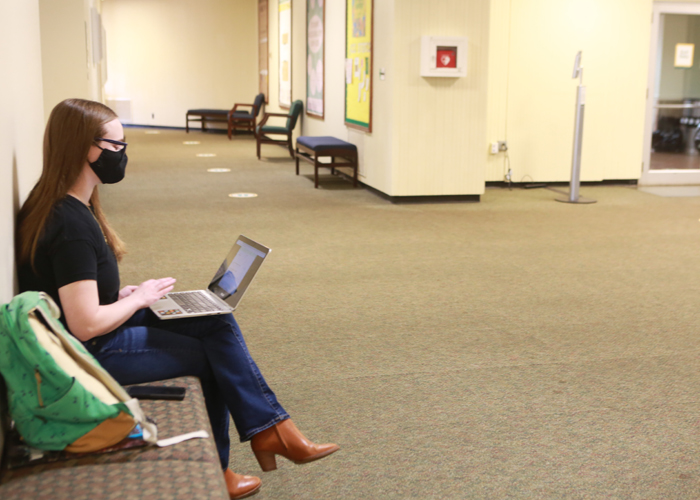 "Masks are one of the most effective tools to mitigate the spread of COVID-19," said Carrie Dolan, W&M epidemiologist and director of Ignite Global Health. "As an intervention they are relatively inexpensive and easy to scale. Therefore, it is important to know the proportion of people in our university community who are using them and using them correctly."
The mask usage data is reviewed weekly by the Public Health Advisory Team, Dolan explained.
"Luckily, we are collecting longitudinal data that indicates we have a high level of compliance across the university," she said. "If we identified areas of low compliance, then we would use that data to recommend a policy shift to scale up other interventions such as testing, distancing or handwashing."
The study is part of William & Mary's ongoing efforts to mitigate the spread of COVID-19 and support collective action taken on behalf of W&M's Heathy Together community commitment. Preliminary findings indicate that William & Mary is taking mask-wearing seriously.
During the first week of observation, student researchers found that 97% of William & Mary's campus community was wearing masks – 94% of whom wore cloth or surgical-type masks, known to be the most effective at preventing disease spread.
"We're doing a really good job in terms of mask adherence," said Hannah Smith '21, a Kinesiology & Health Sciences major who is organizing the observations and data collection on campus. "It's important to have real numbers like this. Not that more generalized numbers aren't important, but seeing this data allows us to tailor our public health messaging to fit with what we're actually seeing on campus."
For example, while mask usage is high (97%), researchers found that 3% of those wearing masks were wearing them incorrectly and an additional 4% wore masks in such a way that made it unclear to observers whether they were wearing it correctly or not.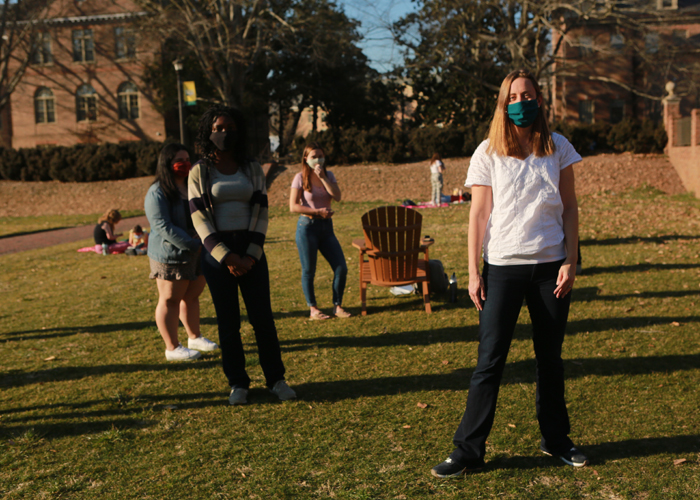 Smith explained that the team found an increase in the percentage of people double masking, which was not something they had initially planned to track for the study.
"We saw enough of it that we thought it would be valuable information to record," Smith said. "We've made note that larger numbers of people are double-masking because of the recommendations made by the CDC."
Smith says that her long term goals for the future are to focus on addressing inequalities through research and expanding access to affordable health care services.
"That's really my passion," she said. "Obviously, this mask adherence project is imperative. It is a concrete way to gauge the effectiveness of public health strategies, which are especially vital right now."
"Even though everyone is very excited that vaccinations are starting to get out to the general public," she added. "People need to be aware that we are still in the middle of a pandemic, and that wearing a mask when you are around other people is how we make sure we keep everyone safe."