'Sustainable Transportation' brings carpooling alternatives to W&M
Traveling to and from William & Mary is about to become a whole lot easier, and a lot more sustainable, through a new carpooling program established by the College over the summer.
The program, labeled as
Sustainable Transportation
, is part of a three-year effort by students, faculty and staff of the College to map out student commuting patterns and to better provide transportation services for students in a sustainable, environmentally friendly fashion.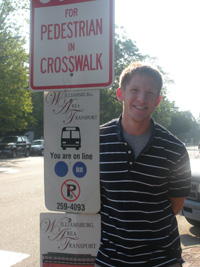 Max Cunningham '13, who received a grant from William & Mary's
Committee on Sustainability
to complete the project, worked this past summer in conjunction with faculty advisor
John Swaddle
, Parking Services Director
Bill Horatio
and Director of Auxiliary Services
Carolyn Davis
to research and enhance the carpooling program. A 2009 survey of College commuting patterns found that students were interested in actively carpooling, but many were still commuting to school alone each day.
"My advisor and I thought that if we could just increase communication between people interested in carpooling, we would see more of ridesharing on campus." Cunningham said. "The same survey showed that public transportation is in a similar place; a lot of people would like to use the bus system, but just don't know enough about it. Our goal from the beginning was to fix that."
Members of the campus community can access the new program through a Sustainable Transportation channel on
MyWM
, an internal website that provides College services for faculty, staff, and students. The new channel provides links to Google Transit, a site that maps out local bus routes and safe biking routes, and a newly created "William & Mary Rideshare Service," which helps potential carpool members find each other around campus. The rideshare service was designed in collaboration with Parking Services and AlterNet Rides, a company that specializes in designing online carpool organizational tools. Recommendations for carpooling partners are generated based on daily travel times and locations.
"W&M has had a dormant carpool program for a number of years," said Swaddle, a professor of environmental science and biology. He added that a majority of what will make carpool a success at the College is the staff and graduate students, who have the greatest economic and utilitarian benefit from ride sharing. "Essentially, what Max and I did was think about ways to revitalize it and advertise the benefits to the W&M community while also making it more user-friendly."
As part of his project, Cunningham also designed several web pages for the Parking Services website, which provide details of the carpooling program and the benefits of using a carpool.  For example, members of a carpool are eligible to share a parking pass, thereby splitting the cost between two to three people, depending on the size of the carpool. Parking Services has also reserved 25 prime parking spaces throughout campus that can be used by carpoolers on a first-come, first-served basis. According to Swaddle, 24 carpool passes have already been purchased.
 "Overall, 'transportation' is a large chunk of W&M's carbon footprint, hence all of these initiatives will make significant positive contributions to reducing our harmful emissions," Swaddle said. "We also want these initiatives to align with personal savings and health benefits for our community. Many of our options are win-win situations, which makes the whole W&M community more sustainable in environmental, economic, and health dimensions."
Cunningham is confident the program will succeed and credits the overwhelming support from Parking Services and Auxiliary Services.
"Having these departments as a support system, people that want to develop ideas and turn them into reality, is huge," Cunningham said. "I have a lot of faith in the future of this project because I've seen such a great support system here."
According to Cunningham, the effort to bring a sustainable student commuting system to William & Mary is only just taking off.
"We want to see how people respond to the carpooling program and the tools we have for arranging carpools. We want to see how people respond to easier access about bus information," Cunningham said. "Based on what we see, there are so many directions we could go. This is only the beginning."