W&M programs to be featured at Sustainability Conference
The College of William & Mary will be well represented at the Association for the Advancement of Sustainability in Higher Education (AASHE) annual conference in Pittsburgh, Pa., Oct. 9-12.
Sarah Hanke MPP '10, the College's Sustainability Fellow for 2010-12, will discuss W&M's Dining Services Sustainability Intern Program, while Max Cunningham '13 will give a presentation on the College's Carbon Offset Program.
In addition, Lauren Edmonds '11 will present the thesis she wrote while attending W&M, entitled "An Evaluation of Effective Structures for Campus Sustainability Programs at Institutions of Higher Education."
The College's Carbon Offset program has been nominated for an AASHE case-study award. The program, originally devised by Cunningham and Professor John Swaddle, is believed to be the first among United States academic institutions to directly target on-campus energy reduction and efficiency.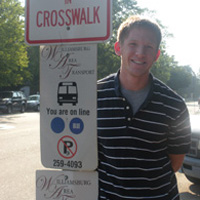 "Students, staff and faculty at The College of William and Mary have expressed a growing interest in offsetting their carbon-emitting activities," Cunningham said. "Carbon reducing projects have been identified within often-used buildings on campus; the William and Mary Committee on Sustainability will have full visibility into the selection and costs of the projects and full knowledge of the actual carbon reductions and the progress made on these projects.
"This developing program has the potential to raise awareness of carbon offsetting in places generally unfamiliar with the concept by making individual offsets pertinent to the whole William and Mary community."
Hanke will discuss the rapid evolution of the College into a collegiate sustainability leader, as evidenced by the Sustainability Dining Intern program begun in 2009.
"(The program) has provided the impetus and the oversight necessary to tackle major projects, such as the enormously successful composting initiative, the installation of a campus herb garden, and the initiation of a reusable to-go container program for the dining halls, among many other projects," Hanke said. "Many of the dining services sustainability initiatives are supported by the Committee on Sustainability and the Student Green Fee, an innovative method that the College has created to award funding to worthy sustainability related projects."