Spring New Resident Move-In
Are we there yet?
Campus move-in information for new spring semester residential students! We look forward to welcoming you home!
Move-In Instructions
Packing for the Semester
Plan to pack the essentials and remember, what you carry into the residence halls will eventually have to be carried out. 
Arriving on Campus
All new residential students will move-in by appointment with Residence Life as part of the Orientation Check-In process.
Directional signage will be in-place to help guide you:
from Jamestown or Richmond Road towards the Campus Center, 

into Hunt Circle, where students should be dropped off at the Campus Center Rear Doors, and

then into "cell phone parking" in the Power Plant Parking Lot where their two (2) masked move-in helper adults (age 16+ years) should wait until their student has successfully:

checked into New Student Orientation

procured their residence hall room key and Student Tribe Card
Check-In Process
Residential new students have a different orientation check-in process than those living off-campus or have been approved to commute from their permanent address.
New residential students will:
receive their Tribe Student ID Card (provided all steps were completed by the deadline) in the Campus Center Lobby,
move upstairs to check-in with Residence Life, and
return to the Campus Center Lobby to complete their last two check-in stations with Orientation student staff.
Upon arriving on the second floor of the Campus Center, signs will direct you to the Residence Life office where staff will issue you a key and other important materials.
You will need the following when you arrive at the Residence Life office:
Clearance from the W&M Student Health Center. If you have not heard from a Health Center official, you can assume you are okay.
Patience. Our staff will do the best they can to check you in quickly. However, circumstances sometimes occur beyond their control that may slow up the process. Remember that many of our check-in days have been fairly hot so a little extra patience could make the day go more smoothly for everyone!
After you have completed the entire Orientation check-in process and have arrived at your building's unloading zone, please unpack your vehicle and park your car within the designated lot before moving your belongings to your room. Note that due to the recent rise in COVID-19 cases, the number of helpers for resident move-in is two (2) masked adults (age 16+ years).
Insurance Information
Personal Property Insurance Recommended for Residential Students
The university is not responsible or liable for any loss or damage to property resulting from fire, theft, casualty or any cause, or for personal injury occurring within the leased premises, except as may be required by Virginia law. It is strongly recommended that personal property insurance be obtained by each student for his or her belongings. Renter's insurance is offered by most major insurance companies; some companies actually offer the option of a rider on a homeowner's policy to cover the belongings of students away at college. We recommend that you contact your current insurance provider or visit these informational websites for quotes, guides and reviews, to examine your options.
Unloading Zones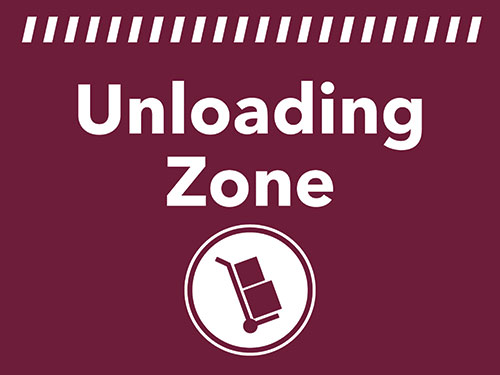 Upon arriving at your residence hall's unloading zone, we ask that you follow all university COVID-protocols AND ...
Unload your vehicle within one hour's time

Proceed to a nearby parking space

Unpack your belongings and get settled in

Have your "See You Later" moment
Unloading Zone Details
Vehicle Restrictions
No oversized vehicles are allowed (RVs, campers, trailers, box trucks, etc.)
Only one vehicle per student allowed at any one point in time
Zone Restrictions
One-hour time limit strictly enforced (fines range up to $100)
Vehicles must be accompanied by a driver at all times during the unloading process
Do not park in fire lanes, or on grass or sidewalks (fines range up to $100)