W&M team shines (again) at WorldMUN conference
William & Mary's participation in the 2017 World Model United Nations conference in mid-March continued the university's long-standing streak of excellence.
Nine W&M students traveled to Montreal for this year's WorldMUN conference, hosted by Harvard University and Canada's Dawson College. The W&M team members, assigned to represent New Zealand, were placed on the following committees: the World Health Organization, the Office of the United Nations High Commissioner for Refugees, the Economic and Financial Affairs Council, the United Nations Educational, Scientific, and Cultural Organization and the Historical General Assembly.
Delegates spent the week discussing topics ranging from the reform of the global pharmaceutical industry to the current refugee crisis to offshore tax evasion to the protection of cultural heritage sites to the formation of the Kyoto Protocol in 1997.
"We all worked with students from all over the world -- Belgium, Lebanon, Peru, Australia, Japan, Germany, India, Bangladesh, Ghana, and Egypt just to name a few -- to come up with creative and innovative resolutions for some of the world's most pressing problems," said Somya Shankar '18, the team's head delegate.
William & Mary has historically been very successful at the WorldMUN conference. In both 2005 and 2006, in Edinburgh and Beijing, W&M won the best Large Delegation award. In Melbourne in 2013, the university was recognized with the best Small Delegation award.
Although W&M did not win a school award this year, the team ended with a top-five small delegation finish for the first time since 2013, behind only Washington University in St. Louis, the United States Military Academy at West Point and Claremont McKenna College. Four team members – Connor Currie '17, Hannah Major '19, Isabella Lovain '20 and Seth Fiderer '20 won diplomacy awards. Four others – Ani Sinani '17, Alexandra Quinn '17, Shankar '18 and Blake Phillips '20 – won verbal commendation awards.
"William & Mary attracts people to its prestigious government program," Phillips said. "In order to do well in MUN, one has to be interested in government; ergo, William & Mary tends to do well at these competitions. Our training also has something to do with our success, but every school trains. Our natural talent and competitiveness on the American circuit and our natural talent pool are some of our greatest assets."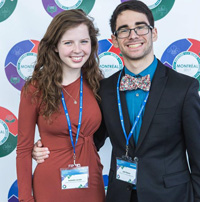 Phillips was a member of the World Health Organization, and knew he'd be representing New Zealand at the Montreal conference. To prepare, he spent about three weeks studying the country's stances on public health and medicine distribution.
"New Zealand has a fairly liberal stance on international financial regulation, and a very liberal stance on public access to healthcare, so that is a mixed bag you don't often see internationally," he said. "Typically, countries on par with New Zealand in Europe have a tight grip on advertising and banking, but also distribute medicine like New Zealand does. In a way, New Zealand is like America when it comes to financial regulation and like Europe when it comes to medicine."
Phillips and the rest of the team began familiarizing themselves with New Zealand's policies as soon as they were selected last November. That was the gateway to a more strenuous three-week period of preparation in which they met as many as three times a week, engaged in writing and speaking drills and traveled to two other conferences for training.
"Intense" and "rigorous" is how Shankar described the process.
"As the head delegate for the team, it is incredibly rewarding to see the hard work put into training pay off in the most competitive and most prestigious conference that William & Mary competes at year after year," Shankar said "I am incredibly proud of our strong performance, and hope that this momentum can roll over into the competitive season for next year."

The odds of that happening would appear to be good. Four of the nine delegates who participated in this year's WorldMUN are freshmen.
"The strong performance of this young William & Mary team can be attributed to each and every person's dedication to representing William & Mary to the best of our abilities," Shankar said.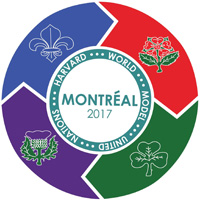 Shankar has attended WorldMUN every year she's been at William & Mary. Beyond the lessons she has learned, the places she's seen and the friendships she has forged, Shankar said that WorldMUN "has continually reinforced my faith in diplomacy and in Model UN in general."
"It has given me hope that tomorrow's world leaders will strive to compromise to make this world a better place," she said. "But, perhaps the most important lesson I have learned from attending WorldMUN is that the world is an incredibly small place. Knowing that I have real friends everywhere from Luxembourg to Lebanon is an incredibly humbling feeling."