Kraemer Scholar-In-Residence
Kraemer Scholar-In-Residence
The Kraemer Middle East Distinguished Scholar-In-Residence is offered yearly, and provides the opportunity for a scholar specializing in Islamic law and governance to spend a short period of time at William & Mary sharing his or her expertise with the university community. The Scholar-In-Residence is open to all geographical areas and sub-disciplines, provided the Scholar's background, interest and topical focus are on or clearly related to Islamic law and governance.
The Kraemer Middle East Distinguished Scholar-in-Residence was established with a generous gift from Carole A. and Richard C. Kraemer '65.
The Reves Center works closely with the Center for Comparative Legal Studies and Post-Conflict Peacebuilding at William & Mary Law School to identify potential scholars and promote this initiative.
Past scholars include:
list of previous Kraemer scholars
Tamara Sonn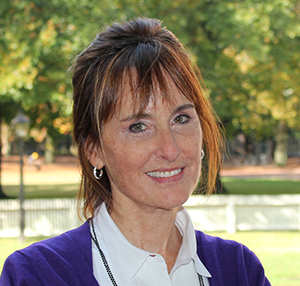 Tamara Sonn is Hamad Bin Khalifa Al-Thani Professor in the History of Islam and Director of the Alwaleed Center for Muslim-Christian Understanding at the Edmund A. Walsh School of Foreign Service, Georgetown University. Her most recent books include Islam and Democracy After the Arab Spring (with John L. Esposito and John O. Voll; Oxford, 2016), Islam: History, Religion, and Politics (Wiley Blackwell, 2016), and Is Islam an Enemy of the West? (Polity, 2016). She has published over 100 chapters and articles, and her works have been translated into Arabic, Bengali, German, Portuguese, Korean, and Russian. She has lectured in North America, Europe, the Middle East, South Asia, and Africa. Her research has been supported by the American Council of Learned Societies, Fulbright, and the U.S. Department of State, among others.  She is Founding Editor-In-Chief of Oxford Bibliographies Online--Islamic Studies and of Wiley-Blackwell's online journal of Religious Studies Religion Compass. She served as Senior Editor of the Oxford Dictionary of Islam (2003), and Associate Editor of Oxford's Encyclopedia of the Islamic World Past and Present (2004). She is Senior Editor of Oxford Islamic Studies Online, and of Oxford's Encyclopedia of the Islamic World, as well as Oxford Research Encyclopedia of Religion. Education: University of Chicago - Ph.D.; University of Toronto - M.A.; Santa Clara University - B.A.
Lectures: "Revolution and Counter-Revolution: How Political Islam Became the Enemy," hosted by the Law School; and "Arab Spring Ten Years After: The Continuing Quest for Democracy in the Middle East," hosted by the Reves Center.
Asifa Quraishi-Landes
Professor Asifa Quraishi-Landes is Professor of Law at the University of Wisconsin-Madison. She specializes in comparative Islamic and U.S.constitutional law, with a current focus on modern Islamic constitutional theory. She is a 2009 Carnegie Scholar and 2012 Guggenheim Fellow. Recent publications include "Healing a Wounded Islamic Constitutionalism: Sharia, Legal Pluralism, and Unlearning the Nation-State Paradigm (forthcoming in Transformative Constitutionalism, Boaventura De Sousa Santos, editor) and "Legislating Morality and Other Illusions about Islamic Government," (forthcoming in Locating the Shari'a: Legal Fluidity in Theory, History and Practice, Nathan French & Sohaira Siddiqui editors). Currently, she is working on a book manuscript, "Islamic Reconstitutionalism," in which she proposes a new model of Islamic constitutionalism for today's Muslim-majority countries.

Professor Quraishi-Landes holds a doctorate from Harvard Law School and other degrees from Columbia Law School, the University of California - Davis, and the University of California - Berkeley, and has served as law clerk in the United State Court of Appeals for the Ninth Circuit. She has served as a Public Delegate on the United States Delegation to the United Nations Commission on the Status of Women, the Task Force on Religion and the Making of U.S. Foreign Policy for the Chicago Council on Global Affairs, and as advisor to the Pew Task Force on Religion & Public Life. She is currently President of the National Association of Muslim Lawyers (NAML), and serves on the governing board of the Association of American Law Schools' Section on Islamic Law. She is an affiliate of the Muslim Women's League, past President and Board Member of Karamah: Muslim Women Lawyers for Human Rights, a Fellow with the Institute for Social Policy and Understanding and a member of the "Opinion Leaders Network" for the British Council's "Our Shared Future" project.

Lectures: "What Sharia means for American Muslims & American Rule of Law" at Tucker Hall and "Islamic Family Law in U.S. Courts" at W&M Law School.
Mohammad Fadel
Mohammad H. Fadel, is Associate Professor Canada Research Chair for the Law and Economics of Islamic Law at the University of Toronto. Professor Fadel wrote his Ph.D. dissertation on legal process in medieval Islamic law while at the University of Chicago and received his JD from the University of Virginia School of Law. Professor Fadel was admitted to the Bar of New York in 2000 and practiced law with the firm of Sullivan & Cromwell LLP in New York, New York, where he worked on a wide variety of corporate finance transactions and securities-related regulatory investigations. Professor Fadel also served as a law clerk to the Honorable Paul V. Niemeyer of the United States Court of Appeals for the 4th Circuit and the Honorable Anthony A. Alaimo of the United States District Court for the Southern District of Georgia. Professor Fadel has published numerous articles in Islamic legal history and Islam and liberalism.
Lectures: "Islamic Legal Reform Between Democracy and Reinterpretation" at William & Mary Law School; and "The Islamic Theology of Sacrifice" at Tucker Hall. (Link to podcasts of lectures)
Gerald Seib
Gerald F. Seib is the Executive Washington Editor and Chief Commentator for the Wall Street Journal. 
Mr. Seib writes the weekly Capital Journal column for the Journal, which brings an insightful, predictive and original understanding to politics, national affairs and foreign policy. In addition, he writes other periodic analyses of national and international affairs for the newspaper and WSJ.com.
He also oversees the Journal's daily Washington newsletter, Capital Journal Daybreak, and produces daily video analyses of events in the nation's capital.
Mr. Seib appears regularly on networks such as CBS, NBC, Fox News, CNN and the BBC as a commentator on Washington affairs. He also has responsibility for The Wall Street Journal/NBC News polls, and has moderated three presidential debates.
Prior to taking his current position, he served for 12 years as the Journal's Washington bureau chief, and as the Journal's deputy Washington bureau chief before that. He began writing his column in the spring of 1993.
Mr. Seib joined the Dallas bureau of the Journal as a reporter in 1978. He transferred to the Journal's Washington bureau in 1980 and covered the Pentagon and the State Department. In 1984, he and his wife, Journal reporter Barbara Rosewicz, were transferred to Cairo to cover the Middle East. They returned to the Washington bureau in 1987 where he has covered the White House and reported on diplomacy and foreign policy. In December 1992, he became a news editor responsible for the Journal's national political coverage from Washington and around the country.
In 1988, Mr. Seib won the Merriman Smith award, which honors coverage of the presidency under deadline, and the Aldo Beckman award for coverage of the White House and the presidency, and in 1990, he received the Gerald R. Ford Foundation prize for distinguished reporting on the presidency. In 1992, the Georgetown University Institute of Diplomacy awarded him the Weintal Prize for his coverage of the Gulf War. He received honorable mention in the Edwin Hood Prize for diplomatic reporting from the National Press Club in 1998. Mr. Seib was part of the team from the Journal that won the 2002 Pulitzer Prize in the "breaking news" category for its coverage of the Sept. 11 terrorist attacks. In 2004, the William Allen White School of Journalism at the University of Kansas named Mr. Seib the winner of the 2005 William Allen White Foundation's national citation. Past winners of this award include the Journal's Vermont Royster, Walter Cronkite and Bob Woodward. In 2012 he won the Loeb lifetime achievement award for contributions to business and financial journalism, and in 2015 the American Academy of Diplomacy's award for distinguished reporting and analysis of foreign affairs.
Mr. Seib earned a bachelor's degree in journalism from the University of Kansas. He was also an intern in the Journal's Dallas bureau, editor of the university's newspaper, the Daily Kansan, and a Sears Foundation congressional intern in the office of U.S. Representative Gilles Long of Louisiana. 
Keynote Address Video: U.S-Iran Relations: Must it always be this hard?"
Ambassador Ryan Crocker
Ambassador Ryan Crocker is Dean and Executive Professor at the George Bush School of Government & Public Service at Texas A&M University, where he holds the Edward and Howard Kruse Endowed Chair. He was the James Schlesinger Distinguished Visiting Professor at the University of Virginia (2012-2014) and served as the first Kissinger Senior Fellow at Yale University (2012-2013).
Ambassador Crocker retired from the Foreign Service in April 2009 after a career of over 37 years but was recalled to active duty by President Obama to serve as US Ambassador to Afghanistan in 2011. He has served as US Ambassador six times: Afghanistan (2011-2012), Iraq (2007-2009), Pakistan (2004-2007), Syria (1998-2001), Kuwait (1994-1997), and Lebanon (1990-1993). He has also served as the International Affairs Advisor at the National War College, where he joined the faculty in 2003. From May to August 2003, he was in Baghdad as the first Director of Governance for the Coalition Provisional Authority and was Deputy Assistant Secretary of State for Near Eastern Affairs from August 2001 to May 2003. Since joining the Foreign Service in 1971, he also has held assignments in Iran, Qatar, Iraq and Egypt, as well as Washington. He was assigned to the American Embassy in Beirut during the Israeli invasion of Lebanon in 1982 and the bombings of the embassy and the Marine barracks in 1983.
Lecture: "The Day After Tomorrow: Iraq and America" as keynote address for the conference, Iraq: Yesterday, Today and Tomorrow with  Emma Sky, Director of Yale World Fellows and  Senior Fellow at Yale's Jackson Institute; Sarhang Hamasaeed, Senior Program Office for the Middle-East and North Africa Programs at the U.S. Institute of Peace; Zaid Al-Ali, Visiting Lecturer in Comparative Constitutional Law at Princeton's Program in Law and Public Affairs; and, Christie S. Warren, Professor of the Practice of International and Comparative Law at William & Mary Law School, who will serve as moderator. 
Sara Khan

Director of Inspire, a women's human rights and counter-terrorism organization which seeks to address inequalities facing British Muslim women. In January 2015 Khan was recognized as one of Britain's 500 most influential people working toward peace and stability in the United Kingdom. In September 2005 after the London bombings, she sat on the Home Office's Tackling Extremism and Radicalisation Working Group.  She is currently sitting on the Government's Department for International Development's (DFID) External Expert Advisory Group on Girls and Women advising the International Development Secretary.
Lectures: Making a Stand: A Woman's Jihad against Violence and Extremism (Mar. 3, 3:30 p.m., Miller Hall, Mason School of Business) and UISIS and Women's Rights: The Key Battleground for Extremists (Mar. 4, 12:50 p.m., The Law School, Room 127). Both lectures are free and open to the public.
Haider Ala Hamoudi

Associate Professor of Law and Associate Dean of Research and Faculty Development at the University of Pittsburgh School of Law. Previously served as a legal advisor to the Finance Committee of the Iraq Governing Council, and worked with the International Human Rights Law Institute at DePaul University's College of Law to improve legal education in Iraq. He also advised the Constitutional Review Committee of the Iraqi legislature on behalf of the US Embassy in Baghdad.
Lectures: Islam in the Iraq Constitution (Mar. 13, 12:50 p.m., Law School, Room 141) and Understanding the Sunni-Shi'a Split: From Theology to Law (Mar. 14, 3:30 p.m., Andrews Hall, Room 101). Both lectures are free and open to the public.
Muhammed Tabiu

Department of Islamic Law at Bayero University in Kano, Nigeria. Previously served in the Ministry of Justice in Kano State, taught in the Faculty of Law at Usmanu Danfodiyo University in Sokoto State, and served as Attorney General and Commissioner of Justice in Jigawa State. Former Executive Secretary of the National Human Rights Commission in Abuja in the Federal Capital Territory
Lectures:Islam, Human Rights, and Social Justice and Islamic Law and Religious Freedom in Nigeria.
Asma Afsaruddin
Chair and professor of the Department of Near Eastern Languages and Cultures at Indiana University Bloomington.
Lectures:Reviving the Caliphate: Debating Just Governance in Islam and Competing Visions of the Shari'a: The Real Clash in the Islamic World.
Mishkat Al Moumin
Former Minister of Environment of Iraq. Founder and CEO of Iraq's Women and the Environment Organization (WATEO).
Lectures: The Status of Human Rights In Iraq, Post Saddam and Promoting Women's Rights in an Islamic Society.
Zainah Anwar

Founding member and former Executive Director of Sisters in Islam, a Malaysian non-governmental organization which focuses on advancing women's rights within the framework of Islamic culture and faith. Project director for Musawah, a global movement for equality and justice in the Muslim family.

Lectures: What Islam, Whose Islam? From Misogyny to Equality and Challenging History and Tradition: Women and Islamic Law.