Accreditation Information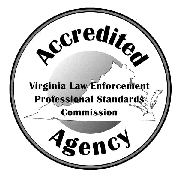 On February 9, 2001 the Virginia Law Enforcement Professional Standards Commission awarded the College of William and Mary Police Department a Certificate of Accreditation. The William and Mary Police Department is the 29th Virginia law enforcement agency to obtain this accreditation. To achieve accreditation, a law enforcement agency must undertake a review process, coordinated by the Department of Criminal Justice Services, that requires 213 standards be established and compliance shown.
Procedures & Process
The Virginia Law Enforcement Professional Standards Commission is intended to provide law enforcement agencies in Virginia an avenue for demonstrating that they meet commonly accepted standards for the efficient and effective operation of that agency. It is recognized that the standards included in the program do not reflect the maximum amount that can be done by an agency in any one area. They are also not minimum standards.
Law enforcement executives that choose to have their agencies accredited under this voluntary program will have examined all aspects of their operation. They will have made conscious decisions about policies and procedures that fit the law enforcement requirements of their jurisdictions and will have implemented those policies and trained their employees in their use.
Accreditation does not reflect that one law enforcement agency provides better law enforcement services to its community than that of a non-accredited agency. What it does reflect is that the accredited agency was carefully measured against an established set of standards and has met or exceeded accepted practices in the field of law enforcement.

The Standards
The standards used in this program were developed by the membership of the Virginia Law Enforcement Professional Standards Commission. Existing standards were reviewed as well as standards from other states.
Eligibility
All law enforcement agencies as defined by §15.2-1701 of the Code of Virginia, and any other agency defined as a law enforcement agency by the Code of Virginia are eligible for accreditation under these standards. Any question of eligibility will be decided by the VLEPSC.