Alertus Desktop Notifications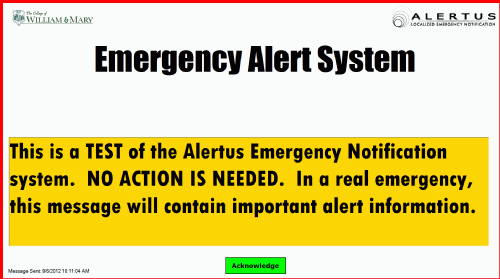 In the event of an emergency, Alertus pushes emergency notifications to the desktop of your computer or laptop via a full-screen pop-up window that includes details of the event.  Once you click "Acknowledge" the notification will disappear. 
How to Install Alertus
Faculty and staff who have Big Fix on their computers will automatically have Alertus installed. Big Fix (formerly known as Tivoli Endpoint Manager) appears as a blue and white "b" icon on your task bar or menu bar.  Alertus will be installed as a system update, activated by restarting your computer.
Classroom and PAC lab computers will also have Alertus installed automatically. 
For all other computers, such as Macs, your personal computer, or student computers, you may install Alertus using the following links:
You will be prompted to enter your W&M Username & password.  You must write "campus\" prior to entering your W&M Username.  Example: campus\txjefferson.  Then follow the prompts to complete the installation process
Once installed, Alertus will work for computers that are on the campus network (including VIMS) or that are connected to the internet. 

If  Alertus is active, the icon in the taskbar will appear yellow.  If Alertus cannot communicate with the campus server, the icon will appear red.  Personal firewalls may prevent Alertus from communicating with the server.  As the alerts use a pop-up screen, if your computer is turned-off,  logged-off, locked or in screen saver mode the alerts will not appear.

Questions?  Contact the Technology Support Center (TSC)
757-221-4357 (HELP) | [[support]] | Jones 201, Mon. - Fri. 8:00 am - 5:00 pm