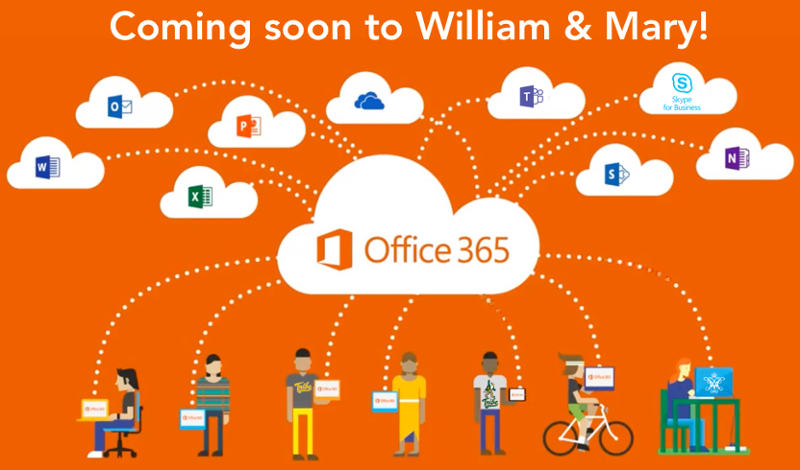 Already moved to Office 365?  Access email online at webmail.wm.edu.

Visit our new Office 365 Email page for the latest information.

As part of an ongoing effort to maintain and improve IT services, faculty & staff email and calendaring services will be migrating to the Microsoft Office 365 Cloud in 2017. 
The move to the Cloud is consistent with the goals of William & Mary's Business Innovation initiative, which is a strategic effort to improve effectiveness and efficiency across the university.  The move will also usher in a new suite of Microsoft web applications that offer exciting new ways to organize, manage, and improve business processes.  

Background
With aging on-premise Microsoft Exchange servers nearing end of life, W&M IT conducted an intensive exploration of cloud-based email and calendar solutions in 2016. We consulted with various departments on campus to evaluate their email and calendar business needs and compared that with available cloud systems and offerings. Also under consideration were the tools and services that come with the various Cloud options. With the support of the IT Advisory Committee, Microsoft Office 365 was chosen as the email and calendar solution for faculty and staff. 

Mail Migration 
As our current email system is also Microsoft, the migration of email and calendar is expected to have minimal impact on users.  But there are some things that you will have to do before and after the switch.  
The timeline for the migration of email and calendaring services is expected to take several months, starting in mid-July, 2017.  Mailboxes will be moved in groups based on departments, with consideration given for business needs between departments.  
Take a look at our Migration Station for details about what to expect, how to prepare, and what you need to know after the migration.

Office 365 Web Applications
Microsoft Office 365 also comes with a suite of web applications (One Drive, Teams, Skype for Business, Yammer, SharePoint etc.) Some of these web apps are already available with limited functionality through office.wm.edu.
More web apps will become available and the feature set will be enhanced once the email system is moved to the Microsoft Cloud (currently projected for mid-Fall 2017 semester). It will usher in a smoother, more engaging Office 365 experience, especially noticeable as you navigate from one web app to another. 
More information about these new services, along with training opportunities, will be announced as they become available.  

FAQs
We're sure you have a lot of questions.  And we have some answers for you.  This FAQ page is based on the questions that we have recieved so far.  The page will be updated as we go through the project, so check back frequently.

Questions? Contact the Technology Support Center (TSC)
757-221-4357 (HELP) | [[support]] | Jones 201, Monday - Friday, 8:00 am - 5:00 pm