What's Happening Now with CRM
Summer 2018
Updated 8-27-18
Summer 2018 has been a busy time largely focused on building the constructs needed for onboarding the Mason School of Business to the Salesforce CRM. 

For the Mason Full-Time MBA program, Recruitment went live on June 1 and Applications went live on August 1 through Target X.  Communications are now being sent through Marketing Cloud. The same functionality is currently being finalized for the MAcc (Accounting) and MSBA (Business Analytics) programs, which will go live in September.  The remainder of the programs within the Mason School of Business will go live in January 2019. 

In addition, all the existing applications and processes for Graduate Arts & Sciences, VIMS and School of Education were reviewed and updated as needed.  School of Education also began using Marketing Cloud for recruitment communications.

On the Advancement side of the CRM, work continued on additional integrations, a vendor platform change for our integrations and the launch of the first communication journey in Marketing Cloud.  In addition, several new constituent areas were onboarded for Linvio and Marketing Cloud.
Happy New Year!
Updated 1-8-18
Happy 2018!  2017 was a very busy year for the CRM team.  During the final quarter the team accomplished quite a bit. 
On the Student side, integrations were in the spotlight along with the Application Review Tool (formerly known as Decision Cloud).  That includes building and testing and lots of application support.  Test score integrations for both GRE and TOEFL went live. We also went live using Axiom Elite for the integration between Salesforce and Banner, using new sources for Contact, Application, Enrollment History and Tests.  In addition, all the Application Review Tool requirements for each of the schools were collected.  The Application Review Tool is now live for two areas: School of Marine Science and History.  All the other programs are in various build and testing stages.  Another significant accomplishment was the kickoff for the Mason School of Business. 

We have a lot planned for the upcoming year: the remaining Arts & Sciences departments and School of Education will go live with the Application Review Tool; support of the new processes for application processing for all three schools; bringing Mason School of Business on board this year; and revisiting recruiting to name a few significant things.  Our agenda is pretty packed for 2018!
On the Advancement side, we've been supporting and fine tuning.  Now that the dust has settled for events, we made some tweaks to the integration as well as some changes/additions to reduce some manual cleanup where possible. In 2018, we'll tackle some new integrations. 
Cheers for the new year and for what's to come in 2018!
Grad Applications & Events are Live!
Updated 8-18-17
It's been a while since our last update.  Pardon the delay, but we wanted to wait until we had something exciting to say. And now we do! The first pieces of the CRM have recently gone LIVE!  Read on for details…
On the Student side, the TargetX online applications for Graduate Arts & Sciences, School of Education and Marine Science are LIVE!  That is 38 distinct applications across the three schools.  Wow! We've also completed two rounds of training with all the department administrators getting everyone familiar with the system and procedures for initial processing.  During the months of August and September the team will be concentrating on testing the new Axiom integration between Salesforce and Banner; finalizing the integration with ETS on GRE and TOEFL test scores and rolling out a new version ofAxiom Elite.  Meanwhile, TargetX will be building the first iteration of Decision Cloud.
On the Advancement side, "Events" is LIVE!  Events includes both the rollout of Linvio, a Saleforce application, and the integrations between (1) Cvent and Salesforce and (2) all Salesforce events information to Advance.  Event marketing will be using the Marketing Cloud and capitalizing on the custom subscription page for communication preferences.  We've completed several rounds of training for both Linvio Events and Marketing Cloud.  Next up will be more data integrations between Advance and Salesforce Advancement Connect.
This was a big step!  As excited as we are for these accomplishments, we remain hard at work with the next items on our list. Hopefully we will soon have more accomplishments to celebrate.  We'll keep you posted.
Yep, There's Traffic…
Updated 5/24
We all know what it's like to be stuck in traffic. As you creep through you are wondering what's going on.  Is there a construction zone coming up? Or maybe an accident? Or maybe somebody driving slowly in the left lane?  What's causing this delay?! Chances are you're having similar thoughts with this project.  Why is the CRM taking so long? 
Well, this is a massive project with a lot of pieces. There have been delays along the way, but we are working through them.  The goal is always to build a strong, sustainable foundation for our system – even though it sometimes feels like we're just creeping through traffic. Nevertheless, progress is being made. Here's the latest:
On the Student side, the TargetX online applications for Graduate Arts & Sciences, School of Education and School of Marine Science are being tested and tweaked for an August 1 launch. We've also kicked off the discovery and requirements gathering for TargetX Decision for these three graduate schools.  Behind the scenes we are working on the new Axiom integration between TargetX and Banner; finalizing the views and security; and analyzing/testing loading test scores.
On the Advancement side, the bi-directional integration between Ellucian Advance and Salesforce Advancement Connect for contacts and selected biographical data went live in February with nightly data exchanges. In April, University Advancement transitioned to using a new instance of Marketing Cloud integrated with Salesforce Advancement Connect. This includes the new custom subscription page that now allows our constituents to customize communication received from University Advancement. This coupling of Marketing Cloud and Salesforce allows us to track each email sent to a constituent.  Event integration is in the final segment of testing.  Once completed Cvent data will flow into Salesforce Advancement Connect and Linvio.  All event data (Cvent and Linvio) will then flow to Advance. 
The next few months will be filled with testing and training.  Stay tuned for traffic updates! 
Steady Progress
Updated 12/20
Like any building project, whether brick and mortar or software implementation, you'll likely encounter delays. Our bridge building project is no different. Despite delays, important progress is being made.
On the Student side, Undergraduate Admission is live with the TargetX Decision module. The first decisions were for Early Decision and Spring Transfers. Not only did this entail configuring, testing and training for TargetX Decision, but it also included new data mappings. Mapping went from the Common Application to TargetX and then TargetX to Banner via Axiom software, which also required new programming. Hats off to the Undergraduate Admission team for all the hard work! Meanwhile, a security analysis within TargetX was conducted. This analysis has provided a better understanding of the workarounds needed in TargetX to accommodate the security requirements for both the undergraduate and graduate areas. A few more pieces still need to be verified before we move forward in bringing Recruitment live for School of Education, School of Marine Science and Graduate Arts & Sciences.
On the Advancement side, there has been an equal amount of activity. Since our last update, we have completed one round of a data migration, validation and testing between Advance to Advancement Connect, Cvent to Advancement Connect, and integration from Advancement Connect to Advance. This initial integration activity will allow us to implement marketing and events functionality in the new platform while keeping data current in the existing Advance environment. True to the nature of data integration, there have been moments of good news and bad news. The good news is we were successful in migrating the data and performing system testing. The bad news is there are items needing to be fixed or reworked. Another data migration is underway and another round of testing is planned for the remainder of the year and into early 2017.
So what's next – 2017! The project is poised to see several areas go live on both sides of the bridge. Stay tuned!
Slow, Construction Zone!
Updated 9/1
Building supports for our data bridge is time consuming and, believe it or not, it is really hard work. The construction requires more time than we anticipated, but when complete, we will be able to move forward sure-footedly and build the bridge with confidence. More specifically the project has entailed:
On the Student side, the second version of the online application has been completed. This includes the ability to receive the application, letters of recommendations, waivers, and online payments. The project team has been hard at work testing it and providing feedback to TargetX (our partner for the Admissions system). The new inquiry forms for each of the graduate schools have been completed and tested and are now ready to go! Behind the scenes the team has been working on setting up security, finalizing data mapping from TargetX to Banner, and lots and lots of testing. Implementation for the Decision module (the system to evaluate applications) is in full swing with Undergraduate Admission. Initial configuration is complete and testing is underway.
On the Advancement side, we have completed the mapping and programming for the initial exchange of data (with data both coming and going). Testing of the bi-directional integration is underway. In addition, the team has been working with ACF Solutions (our implementation partner) in reviewing the configurations for both Advancement Connect and the Salesforce Marketing Cloud.
The balance of August and early September will be spent on finalizing security, full system testing, training, and more building. So put on your hardhat. You're entering a construction zone.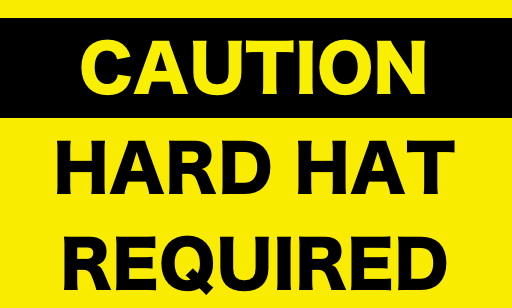 Construction Ahead…
Updated 6/17
Requirements for our bridge have been collected; design and construction are now underway!
On the Student side of the bridge, the W&M team collected and delivered the requirements for both the online application and new inquiry form for all three graduate areas (Grad Arts & Sciences, Marine Science and Education). TargetX, our CRM partner for Admissions, completed and delivered the first build on both. Each school is now testing and providing feedback. On June 3, TargetX kicked off the Decision implementation with Undergraduate Admission. During the next several weeks, W&M will gather the decision requirements.
On the Advancement side of the bridge, the W&M team reviewed Phase 1 requirements. The team began the tedious task of reviewing Advance data for the bi-directional integration between Advance (current system) and Advancement Connect (new system that integrates with the Salesforce CRM). This data integration will support the events, alumni community and marketing cloud. Both the W&M team and ACF Solutions are working on building this integration that includes data scrubbing, transformation and mapping. In addition, ACF Solutions has been configuring the marketing cloud and alumni community. The team also began viewing various reporting tools to support the CRM.
And work is starting on student engagement! Think of student engagement as the span between Admissions and Advancement. ACF Solutions, our implementation partner, visited campus on May 24th through 26th to collect requirements for student engagement. During those three days over 45 staff members representing offices across campus that support enrolled students were interviewed. ACF will analyze these requirements and provide recommendations to prepare for implementation in Phase 2.
The remainder of June will be spent testing and mapping data on both the Student and Advancement bridge supports.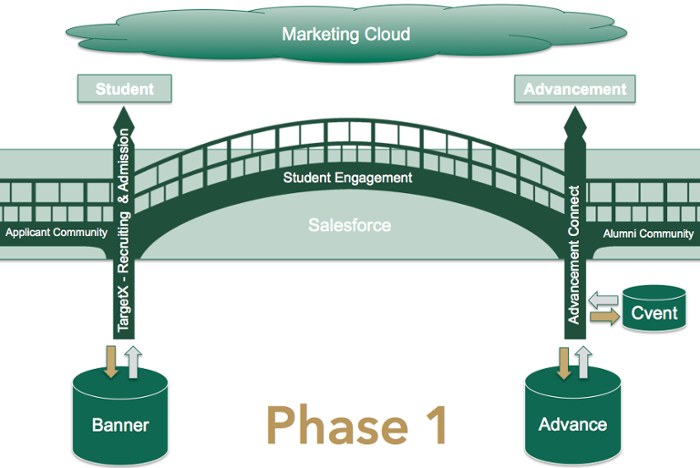 Building Supports for the Bridge
Updated 4/21

Much like an actual bridge, our CRM project is like a bridge that spans from one end of the student experience to the other. So at one end of the bridge we have students entering the College and at the other end we have advancement efforts for alumni and donors. We have been working to build good supports for both ends of the bridge in order to ensure a strong span going across them.
On the Student side, we focused on recruitment and the new online admission application. TargetX (our CRM partner for Admissions) visited campus the week of April 4th for three days and met with Graduate Studies & Research, School of Education and School of Marine Science. (Undergraduate Admission will continue to use the Common Application and will be adding the Coalition Application.) This included a review of the TargetX recruitment module as well as an in-depth review of the new online admission application. IT is now working with each school to document the online admission application requirements. At the Mason School of Business there was an initial demo of TargetX Recruitment, Online Application and Decision Cloud. TargetX also met with our Undergraduate Admission to discuss changes affecting them (they have been using TargetX prior to CRM project at W&M) and discuss the initial schedule for implementing the TargetX Decision cloud.
On the Advancement side, ACF Solutions (our implementation partner) was also on campus the week of April 4th to discuss marketing communications and the alumni community. They met with the advancement marketing team to understand how they are currently using Salesforce Marketing Cloud and see how that can be expanded to utilize the full system. In addition, an in-depth meeting was held to review our current alumni community platform, my1693, and to consider configurations for the new Salesforce Online Alumni Community. ACF Solutions will be back on campus the week of April 25 for two days to discuss events and data-mapping.
The remainder of April will be spent analyzing our findings, starting configurations of the CRM, along with extensive data mapping to strengthen our supports for the bridge-building project ahead.
In other happenings, several CRM team members attended the Higher Ed Summit sponsored by Salesforce in New Orleans in late March. See our latest blog post A View from the Summit to read about W&M IT's Business Systems Analyst Dennis Morris experience there.
Ready, Set, Roadmap!
Updated 3/2
Last week ACF Solutions (our CRM implementation partner) came back to William & Mary to present the roadmap for implementing Salesforce at W&M. The roadmap will guide our steps and give us a tentative timeline for the project.
The roadmap consists of three phases:
Phase 1: Foundation Building
The focus in Phase 1 will be to build a foundation to leverage the power of Salesforce and support the long-term goal of a creating a 360 degree of constituents. It will emphasize two areas: student and advancement.
Phase 2: Expanding Functionality
During this phase, the goal is to extend the functionality of the foundation built in Phase 1 by onboarding different units and bringing data into the system.
Phase 3: Extending Services
The focus during Phase 3 will be to extend the system to support corporate relations across campus and enhance career management. 
More details can be found on our newly minted CRM Implementation Roadmap webpage. 
So now the fun part begins… let's do this!
Right on track
Updated 1-7-16
We are in the midst of the 3-month "Discovery Phase" with ACF Solutions (our implementation partners) and there has been quite a lot of activity.
In December, ACF delivered a report of the high-level requirements they gathered during Discovery Week at W&M back in November. The CRM project team at W&M reviewed the report and provided comments which were relayed back to ACF. ACF also delivered a Communication and Change Management Plan for the project management team to review and consider. At this point, ACF is continuing to analyze our requirements, but now focusing more on which systems would best fit our needs – the solution architecture. They are also working closely with TargetX regarding the Admissions solution.
Here at W&M, University Advancement and W&M IT continue to investigate the features of a system called Advancement Connect that would integrate with Salesforce. Also, W&M IT has hired two new business analysts. The business analysts will play an instrumental role in the implementation of the Salesforce CRM. By working directly with departments and constituent groups, they will (among other things) be responsible for configuring the system to meet business needs, ensure that requirements are met, and aid in the adoption of Salesforce across campus.
The upcoming month (January/February) will be a big one as we expect to receive from ACF Solutions the solution architecture, phase validations, and a roadmap with the complete implementation plan. Also, in late January there will be a status meeting with ACF Solutions, Salesforce, Target X and the W&M Executive sponsors of the project.
All in all, we happy to report that the project is on schedule and on budget. So we are right on track and we'll keep chugging along.
Patiently Waiting
Updated 11-16-15
Nov. 2-6 was "Discovery Week" for the CRM implementation. Discovery Week marks the beginning of the 3-month long Discovery phase where ACF Solutions, our Salesforce implementation partner, will build out the roadmap for the project. It was an intensive week with back-to-back (and sometimes overlapping) interviews of various W&M departments and stakeholder groups.
Fulfilling ACF's goal to collect user stories, the interviews also provided them great perspective about the W&M culture and insight into our current processes and procedures. Unfortunately, as all the interviews were in Jones Hall, and with almost no free time between groups, they didn't see one important aspect of W&M… the beautiful campus. We'll try to work in a lunchtime tour next time they are on-site.
So where do things stand now? There are a few W&M teams that still need to meet with ACF, and those meetings will be done remotely. Beyond that, ACF has entered a stage of intense analysis. They will be reviewing their notes to gather our core requirements. They will work to identify solutions to meet our needs. Those solutions will be compared to what was included in our current contract, and they may make recommendations for additional purchases. ACF will also consider the timeline for implementation and the order of the various phases. There is (and will continue to be) a lot of back-and-forth communication between ACF and the project manager and leadership team at W&M as they work through this part of the process. In the end of the 3-month Discovery period, we will have a roadmap for implementation and the fun will begin - but for now, we are patiently waiting.
Making a Roadmap
Updated 10-30-15
The Building Bridges project is embarking on a three month "discovery" phase with ACF Solutions, the vendor that will aid in implementing the Salesforce CRM platform.  This is the first of multiple implementation phases (exact number TBD). By exploring current processes, mapping current data flows, and evaluating needs, this period will allow ACF to learn about William & Mary, with the goal of creating the architecture roadmap for the upcoming implementation activities. 
Next week (Nov. 2-6) will be an especially important week within the discovery phase.  ACF Solutions will be on campus meeting with various offices and groups of stakeholders to gather "user stories" from participants.  The user story is a brief statement articulating an action that a user makes to achieve a goal.  These stories will help provide the understanding of William & Mary that ACF Solutions needs to build the aforementioned roadmap.
Groups include:
Academic Advising/Student Success
Admissions (Graduate)
Admissions (Undergraduate)
Advancement
Athletics
Career Services & Corporate Relations
Communications & Marketing
Events Management
Technology
Registrar
Security
Student Services - Student Affairs
Student Services (Graduate)
Want to know more?  Also check-out Bridges Unabridged for the story behind CRM project.