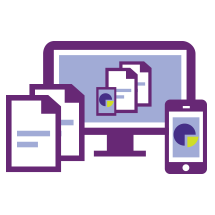 Good news! The transition of Banner Admin to Banner 9 is almost complete! Find the most current Banner Admin information on the Services section of the IT website!  
Banner 9 is coming and we are sure you have questions. Here are answers to questions that we have received thus far.    
Have a question?  W&M Faculty and Staff can email [[banner9]] to submit a question.  Answers will be posted on this FAQ page. The page will be updated periodically.
Why are we upgrading to Banner 9
Vendor support for Banner 8 (our current version of Banner) will be terminated at the end of the 2018 calendar year.  This mean all schools, William & Mary included, must move to Banner 9.
How many people at W&M are impacted by the change?
W&M currently has 480 Banner Admin users, all of which will be impacted by this change.
Does the change impact Banner Self-Service?
Banner Self-Service will not be impacted at this time.  Only users of Banner Admin (aka Banner INB) will see a change.  Banner Self-Service will be upgraded at a later date.
Does data have to be migrated between Banner 8 and 9?
No.  There are no changes to the Banner database.  Both Banner 8 and Banner 9 access the same database, and the forms will have the same data points on them.  However, the form fields may be laid-out differently in Banner 9.
What functionality will be lost in Banner 9?
None. There will be cosmetic changes and some processes may be different, but no functionality will be lost.  
When will the change take place?  
Changes will take place form by form.  Each form has to be thoroughly tested before it is put into Banner 9's production environment (aka making it "live").  During the next few months, you may find some forms in Banner 8 and other forms in Banner 9.  
Banner 8 will lose vendor support at the end of the 2018 calendar year.  We intend to have all forms migrated to Banner 9 by the end of October of 2018.
How do I access Banner 9?
You will be informed of how to access Banner 9 when forms become available in modules you have been granted access to.  For example, if you have access to the Human Resources module, once forms for Human Resources start being released in Banner 9, you will be emailed instructions on how to access it.
What browsers can be used with Banner 9?
Any modern browser can be used for Banner 9 (Chrome, Firefox, Edge, Safari, etc)
Ironically, Internet Explorer (the preferred browser for Banner 8) does not handle Banner 9 very well. If you are a PC user, you may want to try Microsoft Edge instead.
Can the Banner 9 color scheme be changed?
No, unfortunately not at this time.  
Ellucian (Banner's parent company) has stated the following as of 8/16/17: "Individual users cannot choose a personal color in the Banner 9 applications at this time. Personal color (theme) choices is on the backlog, but not yet scheduled for a particular release."
Will Banner 9 work on mobile devices?
Yes!  Banner 9 works well on large-screen mobile devices like tablets and iPads.  
Note:  Although Banner 9 is accessible from a phone, the user experience is not ideal.  
How do I log in to Banner 9?
Banner 9 will start employing a tool named Duo for 2-step verification.  Once you have enrolled in Duo, you will log in to Banner using W&M's Central Authentication System (CAS) and a code will be sent to your cell phone.  Enter that code to continue the log in process.
How do I set-up Duo (2-step verification)?
Will I have to change my password every 90 days?
No!  Using 2-step authentication provides a sufficient additional layer of security that the 90 day password changes are no longer necessary.
How do I change my Oracle password, formerly Banner 8 password?
From within Banner 9 navigate to form GUAPSWD, you will be presented with your Oracle User ID and prompted to enter your current password as well as your new password.  Once all fields have been completed, click Save.
How do I access the Ellucian Self-Help Portal (aka Ellucian Hub)?
Ellucian's Self-Help Portal

 is o

pen to all Banner users after registering for an Ellucian HUB account (pdf).
Why aren't jobs that I submit showing up on the U: drive?
In Banner 9 you will need to update your job submission output location as it does not carry over from Banner 8.  Job submission output will need to be updated for each instance you use; PROD, USER, UPGR, etc.

In Banner 8 navigate to GJAJPRF

Copy the path from the

Value

 field

Open Banner 9 and navigate to GJAPRF
Once the page opens, dismiss the informational dialogue indicating the query caused no records to be retrieved
Click Insert 
Paste the path copied from Banner 8
Click SAVE 
All job submissions should now point to the correct location on the specified drive.


Compare & Contrast
Below is Banner Admin's SPAIDEN form in both Banner 9 and Banner 8 for comparison.
Banner 9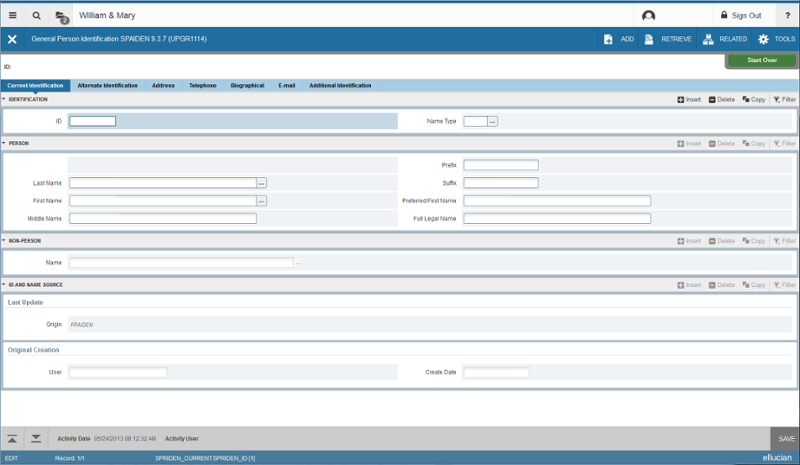 Banner 8