Scanning stations can be found in the following PACLabs:
Watson (for special-needs students)
Swem library offers independent scanning stations as well.  For assistance on those systems, please ask Swem library staff.
Using PACLAB scanning stations:
Ensure the scanner is connected to the scanning station and turned on.  Log in.
Click on "Devices and Printers" on the right-hand side of the Start Menu: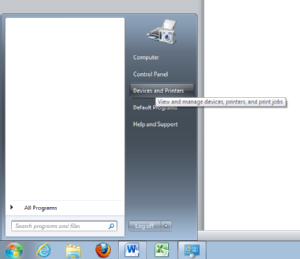 This will open the "Devices and Printers" window: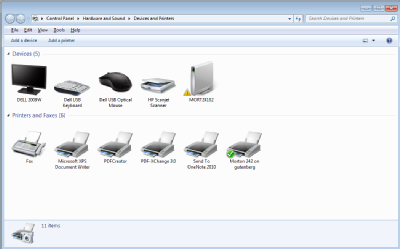 The scanner should appear in the first row, under "Devices".  If it does not, ensure it is powered on and connected to the computer, and wait a minute for the computer to recognize it.
Double-click on the scanner to bring up the "New Scan" window: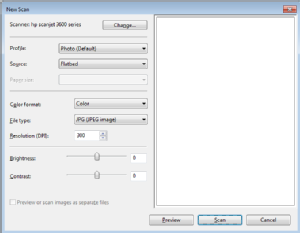 On the lefthand side, you can adjust certain values, such as whether you want to do a color scan (for pictures) or black-and-white/grayscale scan (for text).  You can choose to save the scan as a TIFF, JPEG, BMP, or PNG file.  If you select a profile such as Documents or Photo, these other values will prefill for you, and you can fine tune them after that.
Place the document or image you wish to scan on the bed, facing down, aligned with the rear-right of the scanner.  Click "Preview" to get an idea of what the final scan will look like.  NOTE: the scanner may take a couple minutes before completing the preview scan.
When it does, the preview will appear above the "Scan" button (in the white area) with dotted lines surrounding it:
You can drag those dotted lines to crop the preview, so that when you click "Scan", only the area inside the dotted line is included in your final scan: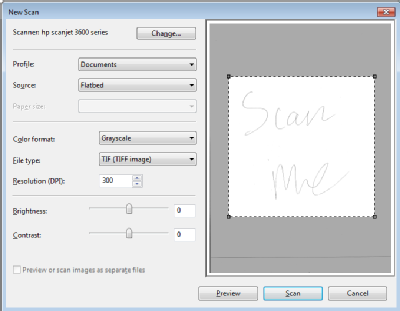 With the settings and dotted lines set to your liking, click the "Scan" button.  The scan will complete and the "Import Pictures and Videos" window will appear: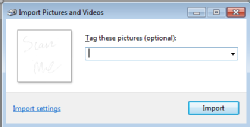 Optionally, enter text to tag your scan, then click the "Import" button.
The scan will be imported.  You will find your scan on your H: drive, in a folder labeled with today's date and whatever tags you chose to give it:
Questions?
Contact the Technology Support Center (TSC)
757-221-4357 (HELP) | [[support]] | Monday - Friday, 8:00 am - 5:00 pm