Zoom is a cloud-based conferencing solution that provides both video and audio conferencing, mobile collaboration, screen sharing capabilities and online meetings.
In a hurry?  Download our Zoom Quick Start Guide (pdf).  Or you can keep reading to learn more about Zoom.
Zoom is...
easy to use: Zoom meetings can be initiated with one click. All you need is a microphone and web camera to get started. Content can be shared through a mobile device or computer. 
integrated: Zoom integrates with the college's learning management system, Blackboard. Online sessions can be shared with participants within the course through a link. Host online office hours or host a study session.
versatile: Zoom can be used for a wide variety of individual's on-campus. Students can host online group meetings. Faculty/Staff can host online meetings across campus.
shareable: Zoom meetings can be shared with individual's on-campus or off-campus. You don't have to sign in to participate in a session. Meetings can be recorded and shared.
All William & Mary faculty, staff, and students have a basic Zoom account for video web-conferencing.

Get Started 
First time using Zoom?
Go to https://cwm.zoom.us/ and sign-in with your W&M credentials
Select your meeting preference to get started (either schedule, join, or host a meeting)
The first time you launch a meeting, the Zoom launcher will download the desktop application. This will allow you to schedule meetings by logging in through your computer.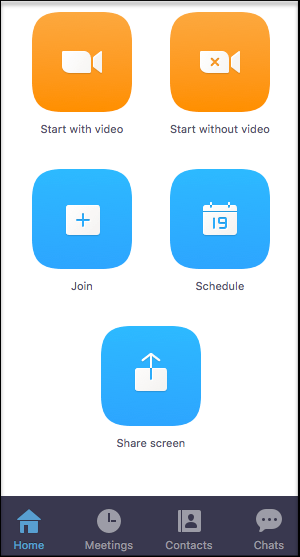 Already used Zoom?  Sign in with the desktop application:
Go to the Zoom desktop icon on your computer
Click Sign in
Then click on Sign in with SSO
In the Enter SSO site URL box, type https://cwm.zoom.us

Click Continue
Sign in with your W&M credentials
Anyone in the world can join a Zoom meeting. To join a meeting, the participant will need to know the Meeting ID to attend.  (The meeting ID is a 9, 10, or 11-digit number.)
Only a host can start/schedule meetings. Use your W&M credentials to sign in to host a meeting. 

Accounts
Basic
All users (faculty, staff, and students) at W&M will have access to a free basic account.
Free Accounts Include:
Unlimited 1 to 1 meetings
40 minute limit on group meetings
Host up to 100 participants
Unlimited number of meetings
Group and Breakout Rooms
Screen Share including iPad/iPhone app
Whiteboard
Co-annotation on shared screen
Record meetings to your computer
Pro 
W&M faculty and staff can request to purchase a Zoom Pro Account. By requesting a Pro account the user will have access to all the same tools as a basic account, but will be allowed to have unlimited meeting duration for all meeting sizes.
To request to purchase a Pro account, please go to Request IT and submit a Service Request. Pro licenses are renewable at the end of December of each year.

Prepare Your Blackboard Course
Instructors will be able to utilize Zoom within their Blackboard courses by using the Blackboard building block to connect a Zoom session.
Go to content area where you would like to add the Zoom link
In Edit Mode, select Tools
Select More Tools
Choose Zoom Meeting
Students can also connect to Zoom meetings:
 Go to the Tools area within the Blackboard course
Choose Zoom Meeting



Zoom Recordings
Meeting sessions can be recorded for viewing at a later time. This feature allows instructors to create useful study material and share meeting content with students who could not attend the live session. Recordings can be stored on the host's computer or, if you have a Pro account, in the cloud. Recordings may be uploaded or embedded in sites such as YouTube, Blackboard and/or Panopto. As with any technology, our office encourages you to make backup copies of any recording you wish to preserve.

Video Recording Guidelines
William & Mary Classroom Use of Panopto, Other Classroom Recordings, and FERPA (PDF)
Zoom Tutorials
Regular training sessions are conducted weekly to familiarize Zoom meeting hosts and attendees with emphasis on best practices. These training sessions are hosted by Zoom and are held online via Zoom Webinar Meeting. You are welcome to register for any live session or view the recording of a previous session. The webinar session schedule can be found https://cwm.zoom.us/livetraining.
Looking for additional resources about Zoom Web Conferencing?   Visit the Zoom Help Center page at https://support.zoom.us.
Accessibility & Privacy
View Zoom's accessibility features. 
Questions
Questions about integrating Zoom into your courses and assignments? Contact your eLearning Specialist or a member of the eLearning team at [[elearning]].
For technical issues, contact William & Mary Information Technology's Technology Support Center at [[support]], or call 757-221-HELP during regular business hours. Additionally, faculty can contact their Academic Technology Engineer for support.
Zoom Help Center is available 24x7. Or contact Zoom Technical Support.