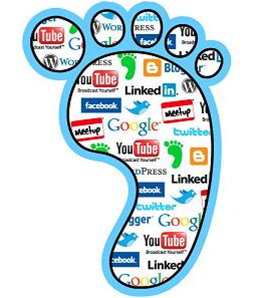 Every time that you surf the Internet, you broadcast information about yourself such as where you've been today, what you are looking to buy online, pictures from your recent vacation, where you work and plans you are making with friends. This is your digital footprint, it reveals a surprisingly accurate picture of your personal life, it is often much more accessible than we think and it is impossible to dispossess. However, it is quite easy to manage your digital footprint.
Cookies
Have you ever sent a Facebook message or an email in which you've indicated your intent to buy a new car, and then shortly thereafter found an ad on your webpage from a local dealership? These are cookies; companies like Google or Facebook will track the data you send on your devices and sell that information to companies who can select you for targeted advertisements.
Cookies are the largest contribution to your digital footprint. Many cookies are perfectly helpful; however, it is not uncommon to collect 30-40 on your system in just an hour of browsing. While outright rejecting all cookies is impractical, there are steps you can take to manage cookies.
Digital Trend's guide to managing cookies
Social Media
Your social media presence is another significant contribution to your digital footprint. Luckily, there are also many ways to limit your digital footprint on social media that don't include deleting your accounts. Always be sure to read through a website's privacy policy and monitor your privacy settings carefully. Facebook has notoriously complex security settings and often users whom you are not friends with can view your data unless you restrict access. You should also investigate a website's User-Generated Content policy - just because you write a blog entry or post a photo, doesn't mean you retain the right to control how it is used. 
In many instances, users find that social media sites retain much more data than we would imagine. However, many social media sites now allow users to download an expanded archive of your profile data (Facebook, Twitter, Google+ and Myspace all offer this service). Whether you are concerned about which of your data has been archived or simply just want to download your pictures and tweets to one hard drive, this is a very helpful function.
Wired.com's guide to downloading your profiles' expanded archives
Mobile Devices and Apps
Websites not only monitor the frequency of your visits, but they can also track which devices you use to consume data. For instance, if you search through your Facebook account settings on your laptop, you may find that your account grants access to 'Facebook for iPad' and 'Facebook for Android' assuming you own both devices and have downloaded the Facebook app. Mobile devices also allow websites to track your physical location, especially if you enable location services. 
Stop | Think | Connect - Safety tips for Mobile Devices
Why Should I Care?
Once you share data online, it is impossible to completely unshare it. While you may be able to take down a blog post or photos in the future, you have no way to control who has accessed it in the meantime. We all place different value on our privacy, but none of us have a say in how the information collected about us is used. While it is unrealistic to avoid Internet browsing, we should all be cognizant of the digital footprint we leave behind with online activity. If you are interested in learning more about the implications of your digital footprint, check out this short YouTube video from InternetSociety.org.