Full Description
The following message is from Interim CIO Bernadette Kenney regarding Zoom security issued on 4/8/20.
Recent news about privacy and security issues involved with using the video communications tool, Zoom, have raised concerns among William & Mary faculty, staff, students, and many other organizations across the globe. 

Many of the incidents appearing on the news are unauthorized users entering an unsecured Zoom meeting and causing disruptions, popularly known as Zoombombing.  To defend against this and other unwanted meeting interruptions, we recommend keeping your Zoom client updated and using one of many available safeguards including: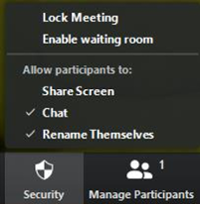 requiring authentication
adding a meeting password
enabling a waiting room
limit screensharing
locking meetings after participants have joined
Details of these security options and more can be found in the
Security
section of 
W&M IT's Zoom website
.
Helpful tutorials for using Zoom security features can be found on the
Studio for Teaching and Learning Website
.
Read
Zoom's response to the recent security concerns.
W&M IT feels confident that the risks identified to date are either avoidable with the proper security settings or being mitigated by Zoom.  We will continue to vigilantly monitor Zoom's security situation and advise accordingly.
We ask you to remain informed by checking our Zoom website frequently for new information and implementing the practices we define.
If you have any further questions, please do not hesitate to contact the
Technology Support Center
by emailing [[support]].