Find A Computer On The Go!
Summary
Use your mobile device to get to an open campus computer in no time!
Full Description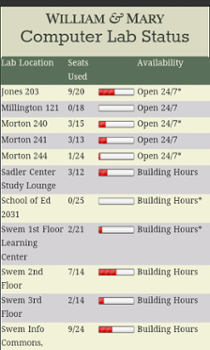 Have you ever been stuck in a lab waiting for a computer to open up, so you can print that term paper? W&M IT now has the answer for you! Using your mobile device or the W&M Mobile App you can now find an open computer in no time.
We've created a realtime, mobile-friendly computer lab search tool that can help you find an open workspace on the go. You can now easily find the nearest available lab and search the hours of operation. Check the Computer Lab Status and wait no more!