IT Security Education & Awareness Training
Summary
At some point within the upcoming year, all W&M faculty and staff must complete an online IT security awareness training.
Full Description
A new online IT security training program is coming to William & Mary.   This training is designed to inform you of the steps you can take to protect yourself, your family, and our organization from malicious cyber activity. 
The invitation to the training will come from Cornerstone, W&M's administrative learning management system, stating that you have W&M Security Education & Awareness training assigned to you.  Follow the instructions in the email to access the training.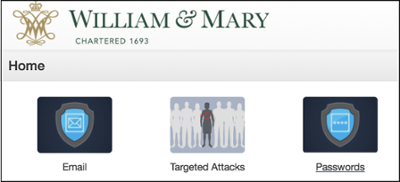 The training course consists of two parts.  Part one is a W&M specific PowerPoint video.  Part two consists of seven interactive modules from the SANS Securing the Human training course. 
All faculty and staff will be required to take the training at some point during the upcoming year.  Groups of trainees will be staggered throughout the year.  Timing will be based on the following:
Administrative Staff on SecureNet: Summer 2018 or Fall 2018
All other Administrative Staff: Fall 2018
Faculty:  Spring 2019
Once you receive the training invitation, you have 4 weeks to complete both parts of the training. Allow an estimated 40-60 minutes to complete the course.  The training can be completed in multiple sessions. Please note that a module will need to be completed in order to accurately reflect your current progress.
Upon completion, if you would like to provide feedback about the training, you may do so on the W&M Security Education & Awareness training feedback form. 
Questions? Contact the Technology Support Center (TSC)
757-221-4357 (HELP) | [[support]] | Jones 201, Monday - Friday, 8:00 am - 5:00 pm