Classroom Modifications for Blended Learning - 2020-2021 Academic Year
Summary
Classrooms have been equipped with new equipment to support blended learning and the layout of each room will be reworked to promote health and safety.
Full Description
To accommodate blended learning in W&M classrooms, additional technologies have been installed in classrooms for the 2020-2021 academic year. The intent of these additional technologies is to provide the tools for capturing and/or delivering instruction for remote students. 
How-To Procedures
The following common procedures in a blended classroom environment can be accomplished with the available equipment following the procedures described below:
Recording your classroom (Not a live broadcast)
Streaming and Recording your Classroom Session Live
Classroom AV Equipment
Overview of Classroom AV Equipment (video) - This video shows how to use the various services offered through the Crestron control panels in W&M classrooms.
Classroom Technology Tour (video) - This virtual tour by eLearning Specialist Mike Blum shows how to use the classroom technology equipment for blended learning.
Collapsible table
Teaching Methods and Strategies                  
Equipment & Software
In addition to the typical equipment in classrooms (podium, projector, screen, touch-screen control panel) the following additional technologies have been installed and made available:
Wacom – a computer monitor with the ability to annotate directly on the screen via a pen/stylus.

It is recommended to use the Wacom rather than the whiteboard so hand-written notes are captured for remote viewing.

Document camera (Hover Cam or Wolf Vision) – a camera with a flexible neck for displaying paper documents and other physical objects.

Can be used as an application on the computer (software name) or as a separate input controlled from the touch-screen control panel.
If capturing or delivering content remotely, you must use the (software name) application on the computer rather than the separate input.

Webcam on Tripod – a camera and microphone combo used for capturing or delivering instruction audio/video.

The microphones on these webcams do an excellent job picking up audio from all directions. 
W&M IT testing of these webcams showed student voices (while wearing masks) were clearly picked up from the back of the room.
Place the tripod in the location most appropriate for what you want to capture in class.

Zoom – W&M licensed software to deliver remote instruction.
Panopto – W&M licensed software to record classroom lecture.
* Notes about Microphones:
For larger classrooms, a microphone at the podium may be available.  In these rooms, the speakers for instructor voice amplification are installed in the ceiling over the students.
In smaller classrooms, there may not be a microphone at the podium.
Portable voice amplification systems may cause looping/echoing sounds with other voice capture/delivery tools and is not recommended.
Classroom Layout
As part of the densification effort for the 2020-2021 academic year, classroom maximum capacities have been reduced to provide at least 6 feet of space between students. Facilities Management has moved student seating to accommodate this spacing as well as providing seating in newly created classroom spaces.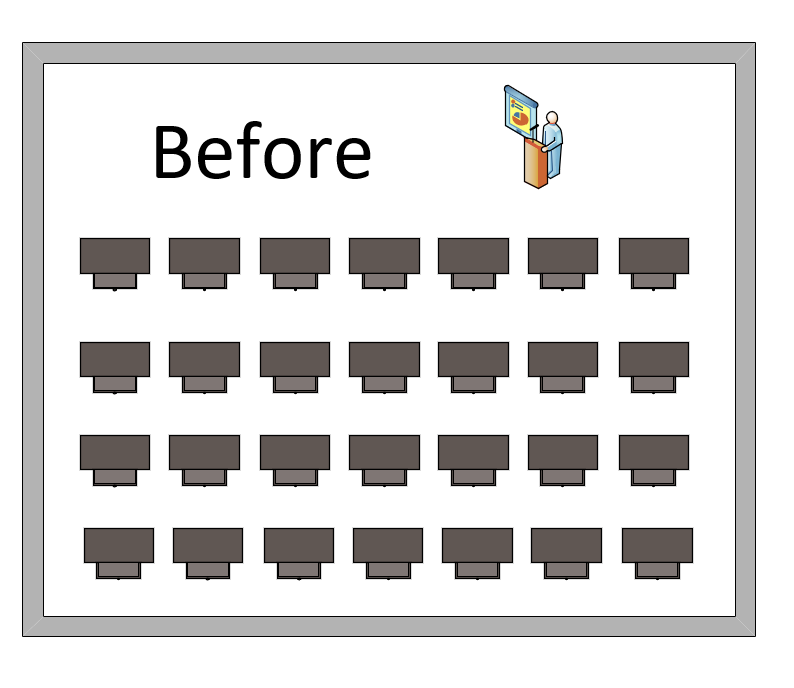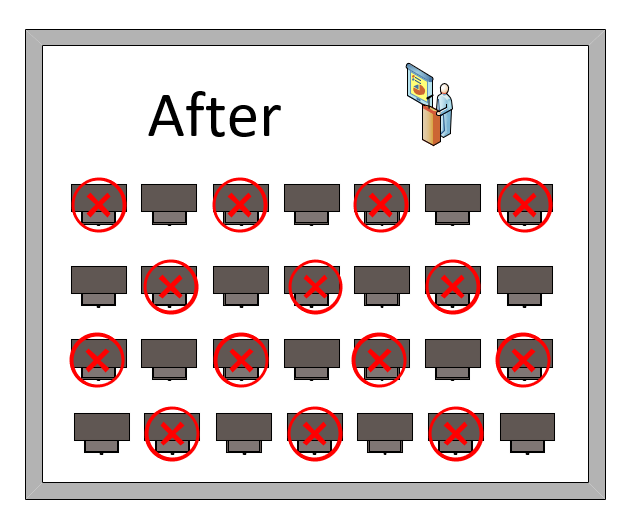 Blended Learning Technology – Classroom Logic Model
The following illustration shows a logic model of the AV equipment in most classrooms to support blended learning: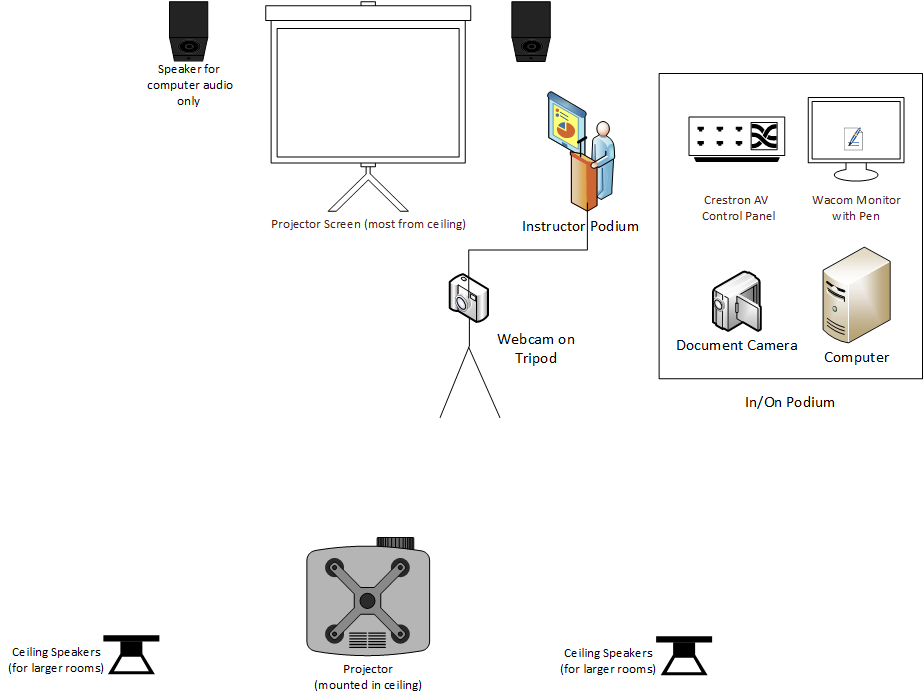 Cleaning Classroom Equipment
William & Mary will provide disposable, dry cleaning wipes and a spray bottle containing a 70% solution of isopropyl alcohol specifically for IT equipment.
DO NOT spray the equipment directly!  Please spray the wipe and wipe down all equipment including the keyboard, mouse, stylus, AV control panel, and microphone head before and after use.
When needed, contact Work Control (757-221-2270) to have the cleaning supplies restocked.
Podium Procedures
DO NOT unplug any equipment for connecting to personal laptops! Unplugging any classroom equipment can render the classroom as unusable. Please do not unplug any equipment. 
Need Assistance? Contact the Technology Support Center (TSC)
757-221-4357 (HELP) | [[support]] | Monday - Friday, 8:00 am - 5:00 pm