Duo Requirement Start Dates
Summary
Now that major William & Mary systems are successfully employing Duo Two-Factor Authentication, and most W&M faculty and staff are now enrolled in Duo, various other systems will start requiring Duo. Check this listing for system start dates.
Full Description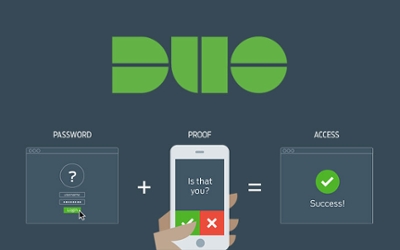 Duo is William & Mary's two-factor authentication service. Two-factor authentication provides an additional level of security to help protect against increasingly sophisticated security threats.  It uses your W&M credentials plus a secondary authentication method (like a cell phone or office phone) to confirm your identity.
Duo Requirement Start Dates
Throughout the 2018-2019 academic year, Duo was successfully added to major W&M systems, like Banner 9 AdminPages, Blackboard, Box, Microsoft Office 365, Salesforce, Virtual Desktops, and the W&M VPN.
Duo will start being required on most other W&M systems shortly.  Below are the slated start dates.  Some systems might not yet be on the list, but if it uses the CAS login service, you can expect the system will require Duo authentication by November 1st, 2019.
Tuesday, October 1, 2019
Blackboard (Students)
DocuSign
MyLaw
Qualtrics (Students)
StarRez
Studio Abroad
Symplicity
T2 Parking Services
Various Athletic Applications (Teamworks, ARI, ARMS, Jumpforward, etc.)
G Suite (Google)
October 1 - November 1
ALL REMAINING SYSTEMS using CAS for authentication will start requiring Duo at some point prior to November 1st, 2019 for all students, faculty, and staff.
Note about Banner - We are currently transitioning from Banner 8 to Banner 9, which requires Duo.  The transition is happening incrementally (module by module) and is expected to be complete within the upcoming year. Notifications about transition dates are being sent directly to impacted users.
Enroll Now!
Most W&M faculty and staff have already enrolled in Duo, but if you have not yet done so, now is the time!  Enroll now at 2f.wm.edu.  Detailed enrollment instructions can be found on W&M IT's Duo website.
How often will I have to use Duo?
Generally, you will be asked to authenticate with Duo every time you login to a system.  However, for most systems, you can opt to have Duo remember your credentials for 14 days by checking the Remember Me box.  This will help minimize the amount of times you need to authenticate with Duo (when using the same device and same browser).  More information about this feature is available on our Duo FAQ page.
What happens if I forget/lose my cell phone?
As a back-up, you can also enroll an office phone and/or a home phone.  We recommend enrolling at least two points of contact. But don't worry, if you get stuck, we can help! Call the Technology Support Center (757-221-4357) for assistance.
What about students?
W&M students will be required to start using Duo beginning Oct. 1, 2019. 
Need enrollment help?
Stop by the Technology Support Center in Jones Hall, Room 201 for in-person help enrolling in Duo. Or visit our Duo FAQ page for additional assistance.
Questions? Contact the Technology Support Center (TSC)
757-221-4357 (HELP) | [[support]] | Jones 201, Monday - Friday, 8:00 am - 5:00 pm