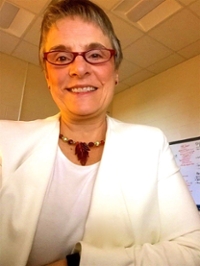 Bernadette Kenney
Deputy CIO
Office: Hugh Jones Hall 213
Email: [[bmkenn]]
Phone: 757 221 7733

About Berni
Berni works closely with the CIO on organizational and strategic technology initiatives.  She has been tapped by the administration to serve as the project manager for the implementation of an enterprise Customer Relationship Management System (CRM).  She also directly supervises the technologists who support Advancement efforts on campus.  Additionally, She provides leadership and counsel to the Software Systems and Data Management units.

Berni came to William & Mary in 2002 as the Director of Enterprise Information Systems to implement the Banner ERP system for campus-wide use.  Prior to her arrival at the university, Berni spent eleven years at Bates College in Maine; most recently as the Director of Administrative Computing.  Berni earned a Bachelor's in Philosophy from Saint Michael's College in Vermont. She has completed some graduate coursework and is an active participant in regional and national professional development activities.

Berni and her husband, Larry, are avid music fans and can be seen at many area venues supporting local bands.  Whenever possible, they escape to a cabin they built in Rome, Maine.