Opinions of IR scholars, public differ on world crises
Following up on William & Mary's Teaching, Research and International Policy Scholar SNAP polls, the University of Wisconsin today released a public opinion poll showing that Americans are far more hawkish than International Relations (IR) experts in advocating the use of U.S. military force abroad, especially regarding Iran.
In the Wisconsin International Policy and Public Opinion (WIPPO) Snap Poll, 63 percent of Americans support using military force in the event that Iran gets close to producing a nuclear weapon. By contrast, in the Teaching, Research and International Policy (TRIP) polls, only 22 percent of IR scholars in the United States supported the use of force in that case.
WIPPO Snap Polls of the public are conducted in collaboration with the TRIP Project at W&M. The two are working together to explore how expert opinion on international politics and policy issues differs from that of the public.
The polls are conducted several times a year, and provide real-time data in the wake of significant policy proposals, during international crises and on emerging foreign policy debates.
For the public opinion poll, 1,000 Americans, representative in terms of age, gender and income, were surveyed between June 9, 2014 and June 18, 2015. The margin of error is approximately +/-3.1 percent.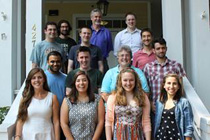 Three TRIP polls surveyed all IR scholars in the United States, with as few as 655 and as many as 1,615 responding. The first was open from September to November 2014. The second was conducted April 6-7 2015 and the third was conducted May 31 to June 21, 2015. To be included, individuals had to be employed at a U.S. college or university in a political science department or professional school and teach or conduct research on issues that cross international borders.
The principal investigators were Daniel Maliniak, Susan Peterson and Michael Tierney – all of William & Mary and the Institute for the Theory and Practice of International Relations (ITPIR) – and Jon Pevehouse and Ryan Powers of the University of Wisconsin-Madison.
On many of the questions, there was a large disparity in the answers given by IR scholars and the public.
"This is one of the reasons I am really excited we could conduct this study," Maliniak said. "We can now investigate the differences systematically to figure out whether or not there are other factors behind this. I think some people assume that a politically liberal academy would just answer along the party line. However, we see plenty of places where that isn't true, either.
"The TRIP team, including a number of undergraduate research assistants, are already getting into the data to see what we can find. In the end, some of this work is going to help us better narrow down why this gap exists."
Eighty percent of IR scholars believe the nuclear agreement signed by Iran and the P5+1 – formally known as the Joint Comprehensive Plan of Action – will have a positive impact on regional stability in the Middle East. Only 43 percent of the public believes that to be the case.
Other issues where there was a wide disparity between the public and scholars included Russian involvement in Ukraine. More than 43 percent of the public favored taking military action to support the government of Ukraine in the event Russia intervenes militarily in support of ethnic Russians living there. Only 26 percent of IR scholars favored such action, with 55 percent opposed, compared to just 16 percent of the public.
But in Estonia, 53 percent of IR scholars supported the U.S. talking military action should Russia intervene militarily in support of ethnic Russians living there. Only 42 percent of the public favored taking such action.
"This likely derives from the fact that IR scholars know Estonia is a NATO ally, and they believe keeping our commitment is important for other allies and in other potential conflict regions," Maliniak hypothesized. "The public is less likely to know either that Estonia is in NATO, or the potential repercussions of not fulfilling our treaty obligations.
"This is perfectly reasonable, as IR scholars are paid to research and teach these issues."
Other findings include:
Sixty-three percent of IR experts are strongly supportive or supportive of the Trans-Pacific Partnership (TPP) trade and investment agreement, while the public is mildly supportive (33 percent) but mostly not committed (48 percent).
Fifty-five percent of IR scholars believe that Greece would be better off continuing to use the Euro as its currency while the public is equally split. Almost 60 percent of the public reported "don't know" for that question.