Marc Lee Raphael's Faculty Showcase
An Evening with Michael Novak
Moderated by Professor Marc Lee Raphael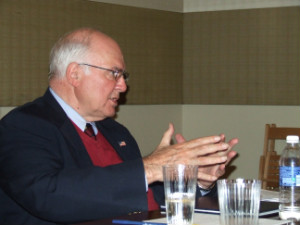 On Tuesday, November 27, 2007, W&M in Washington sponsored a reception for Professor Marc Lee Raphael, his students and area alums, entitled "Religion and the Federal State with special guest Michael Novak."  Program student Hunter Watts interned for Mr. Novak, the George Frederick Jewett Scholar in Religion, Philosophy, and Public Policy at the American Enterprise Institute (AEI) during the semester.  
Mr. Novak, a philosopher, theologian, and author, was the 1994 recipient of the Templeton Prize for Progress in Religion. He has been an emissary to the United Nations Human Rights Commission and to the Conference on Security and Cooperation in Europe.
He has written twenty-seven books on the philosophy and theology of culture, especially the essential elements of a free society.  
Professor Marc Lee Raphael introduced Mr. Novak, who spoke in detail about his research and then answered questions from students and guests.