T.J. Cheng's Faculty Showcase
"John Williamson on the Washington Consensus After Twenty Years"
Moderated by Government Professor T.J. Cheng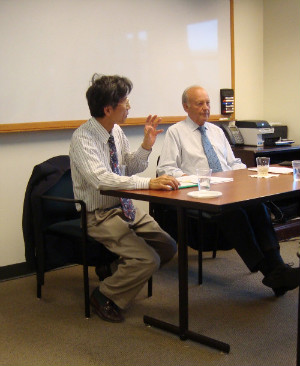 On Friday, April 16, 2010, Government Department Professor T.J. Cheng moderated a discussion with John Williamson on his influential Washington Consensus theory as a policy prescription for development. In front of an audience of alumni, W&M in Washington students, and staff, Williamson reflected on his thesis in the midst of the global financial and economic crisis. The discussion was followed by a brief reception.  Afterwards, Cheng, W&M Washington Office Director Adam Anthony, and four students joined Williamson for dinner at the Iron Gate Restaurant.
Williamson has been a senior fellow at the Peterson Institute of International Economics since 1981, is a world renowned economist in the area of international finance and development, and the author of the most influential thesis on the Washington consensus. He was project director for the UN High-Level Panel on Financing for Development (the Zedillo Report) in 2001, chief economist for South Asia at the World Bank during 1996-99; economics professor at Pontifica Universidade Católica do Rio de Janeiro, University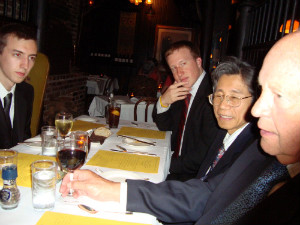 of Warwick, Massachusetts Institute of Technology, University of York, and Princeton University; adviser to the International Monetary Fund; and economic consultant to the UK Treasury. His numerous writings on international monetary and development issues include, most recently, Reference Rates and the International Monetary System, Curbing the Boom-Bust Cycle: Stabilizing Capital Flows to Emerging Markets, Dollar Adjustment: How Far? Against What? After the Washington Consensus: Restarting Growth and Reform in Latin America.