"As an environmental anthropologist, I realized it is important to also study scientists and how knowledge is shaped by cultural values," she says.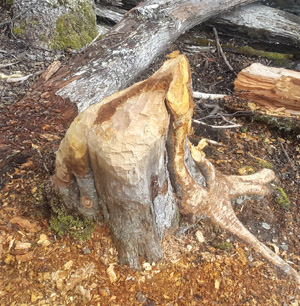 Working in partnership with faculty and students is the IIC's Conservation Advisory Board, composed of scientists, business leaders, community organizers and conservation leaders.
"We've received so many proposals of interest from conservation partners who want to work with William & Mary students," Dicenta says. "We want to collaborate on long-term projects where we can work for multiple years to truly create change."
As an example, one former IIC student, Kat Baganski '21, worked with the Wildlife Conservation Society on a six-month project to analyze places for potential restoration of landscapes in Central America and Mexico that were deforested by cattle ranching.
Looking ahead, Dicenta sees numerous possibilities for the IIC, including bringing a data scientist onto the staff to assist with collecting and interpreting information.
"I also would love to see a future for the Institute where art is a focal point to help us communicate with each other, among disciplines and communities," she says.
This past semester, Dicenta taught Conservation Ethics, an intimate class of 12 students that diverted from traditional environmental ethics courses to include more diverse voices and subjects. Topics included issues related to animal culling, management of animals in zoos and wildlife refuges, the troubled history of national parks and co-management programs, the land back movement calling for the return of colonized land to Indigenous people, and myths portraying the Global South as pristine and wild.
"Central to the course is examining who has a voice in conservation and how to integrate nature conservation with social and historic reparation," she says. "Students teach some of the classes themselves, which has been amazing. Many are so creative — they bring in art or, in one case, cupcakes to help the rest of the class grasp their topics with all of our senses."
Driving students' interest in conservation are issues such as biodiversity loss, environmental decline and climate change, Dicenta says.
Many conservation and anthropology students also are interested in the conflicts of settler colonialism and "decolonizing the environment" — a process that includes elements such as acknowledging the long-lasting effects of colonialism on environmental sciences, resetting the relationship between humans and nature, and seeking justice in spaces where discrimination has been prevalent.