RSVP now for Faculty Lecture Series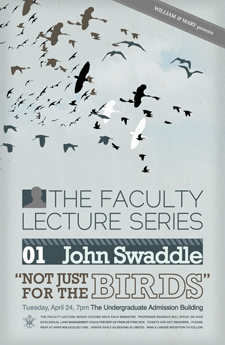 Provost Michael Halleran sent the following message to the campus community on April 20, 2012 - Ed.
A reminder that our first William & Mary Faculty Lecture will feature Professor John Swaddle, speaking on "Not Just for the Birds: How ecological land management could prevent us from getting sick," at 7 p.m. on Tuesday, April 24 at the Undergraduate Admission building.  This event is open to the entire campus community and the general public.
In this inaugural lecture, Professor Swaddle will discuss the nature of vector-borne diseases and which ones are especially dangerous to humans. We will gain an understanding of the mechanism by which disease can be passed from wildlife hosts to humans through vectors such as mosquitoes, ticks and other pests. He will tell us which birds make especially effective hosts for these vector-borne diseases, and which birds don't. Professor Swaddle will demonstrate how a more varied and diverse bird population is good for we humans by suppressing the outbreaks of these diseases. He will give us a rundown of some of common vector-borne illnesses such as West Nile and Lyme and talk about some ripening concerns, such as how climate change is allowing new exotic diseases to move up from the subtropics and become established in Virginia.
Finally, he'll tell us what we can do.  Various land-management practices can bring about a more diverse bird population, which is not only good for the birds, but good for us—and our pocketbooks—as well.
Tickets are not required but because of the limited space, the College asks that anyone planning to attend RSVP at  www.wm.edu/lecture.  A Facebook event page with additional information can be found here: https://www.facebook.com/events/306141982790460/
The presentation will be followed by a wine and cheese reception.  All are welcome.
I hope to see you there. 
Michael