Message regarding the passing of George Nipper
Sgt. First Class George Nipper, who worked for the Virginia Army National Guard and had been assigned by the Army to William & Mary's military science department, died July 1, 2011.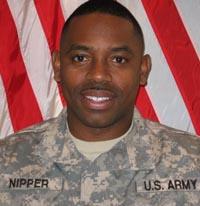 Nipper was based out of Christopher Newport University, which shares William & Mary's ROTC program. He served as CNU's full-time recruiter for the National Guard, said Lt. Col. Barbara Streater, chair of military science. While he was not an instructor, he worked closely with cadets in training, she said.
Nipper died in a vehicle accident on Interstate 64 Friday morning.
"This is very sad news for all of us," Streater said. "Sgt. George Nipper was well-loved by the cadets and members of the staff at William & Mary and Christopher Newport. Sgt. Nipper was very disciplined, very personable, and very motivated. He was a superstar who really enjoyed shaping our cadets into future leaders of the military. He was a character builder and he will be greatly missed."
A wake for Nipper will be held from 6 to 8 p.m. July 6 at Hollomon-Brown Funeral Home on Kempsville Road in Virginia Beach. The funeral will take place at 11 a.m. July 7 at Rock Church on Kempsville Road in Virginia Beach.
Condolences may be made to Nipper's family at http://www.hollomon-brown.com/.