President Reveley's message regarding the new mascot
William & Mary President Taylor Reveley sent the following message regarding the new Tribe mascot to the campus communityon Tuesday, April 6 - Ed.
Dear William & Mary Community,
 
You have waited long enough so let me get right to it - the Griffin has joined the Tribe. Its arrival brings William & Mary a mascot that unites strength and intelligence, recalls our royal origins and speaks to our deep roots in American history. With the body of a British lion and the head of an American bald eagle, this mythical creature commands attention. It is an inspiring figure, not least of all for its glorious green & gold feathers.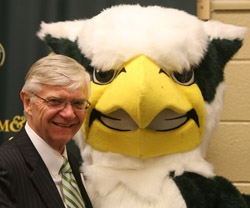 The Griffin has emerged triumphant from a long and grueling (though fun) selection process.  Our Athletic Director Terry Driscoll and the faculty, staff, students and alumni who made up his Mascot Search Committee deserve our warm thanks for a job well done. The campus gathered this evening in William & Mary Hall to meet the Griffin.  Below is a link to a pertinent press release and video ("Get me the Griffin").

http://www.wm.edu/news/stories/2010/new-mascot-announced-123.php
 
 
Taylor Reveley