William & Mary Vice President for Student Affairs Ginger Ambler sent the following message to the campus community Monday regarding missing student Ian Kramer Smith-Christmas. -Ed
Dear William & Mary Community,
 
The Williamsburg Police Department has just put out the following notice regarding one of our students, Ian Kramer Smith-Christmas, a junior from Stafford, VA, who has been missing since Saturday night. He was last seen about 9:30 p.m. Saturday leaving his off-campus apartment. William & Mary Police are working closely with the Williamsburg Police who are in charge of the investigation.  We are also in close contact with Ian's family.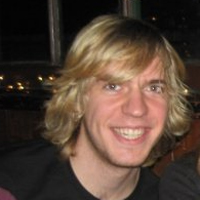 If you have any knowledge of Ian's whereabouts or any information that may assist police in locating him, please contact Williamsburg Police at the numbers below or call the William & Mary Police Department at 221-4596. A photo of Ian is attached.  Together with his family, we hope for Ian's safe and timely return.  I will update the campus community as soon as there is new information.
 Here is the notice from the Williamsburg Police and photo of Ian Smith-Christmas
"It has been reported to the Williamsburg Police department that a city resident and William & Mary student (named) Ian Kramer Smith-Christmas is missing. A friend last saw him at approximately 9:30 PM onApril 24, 2010 at the 800 block of Westgate Circle in the city. Mr. Smith-Christmas is 21 years old and is described as a white male, 6' 1" tall, 150 lbs., green eyes and blond hair.
He may be driving a silver Ford Taurus with Virginia registration YPC-9783 that is registered to his parents. Foul play is not suspected at this time. Anyone with information regarding Mr. Smith-Christmas is asked to call Investigator Rice at 259-7207 or 220-2331."