W&M alum wins big on Jeopardy!
Being an alumnus of the College of William and Mary paid off recently for Jeffrey Spoeri – literally. Spoeri, a 1987 graduate of the College, correctly answered a clue about the school on an episode of the well-known game show Jeopardy! which aired Nov. 24.
"I absolutely was surprised to see William and Mary mentioned in a clue," Spoeri said. "I would have kicked myself from L.A. to Williamsburg and back if I didn't buzz-in in time."
But he did ring-in in time and correctly identified Phi Beta Kappa as the honor fraternity founded at the College in 1776. Over his week-long run on the show, Spoeri correctly answered a good number of clues, earning him more than $100,000 in winnings.
In an email interview, Spoeri cited his classes at William and Mary as part of his success. "I credit my undergraduate studies at William and Mary with much of my knowledge in music and theatre. Fortunately, a number of music categories came up – but I could stand to bone up on Shakespeare before [the Tournament of Champions]," he said.
Shakespeare or no, Spoeri's Jeopardy! career proved immensely successful. His winnings rank him 13th on the all-time money list for the game show.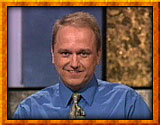 Raising money is something Spoeri is used to, though usually not for himself. After graduating from William and Mary, Spoeri earned a master's degree in education from Vanderbilt University and a law degree from Washington University in St. Louis. He then went on to a career in university development. He currently serves as Director of Development for the Charles E. Schmidt College of Science at Florida Atlantic University. In this post, he is responsible for all fund-raising activities of the college.
Off campus Spoeri is active in the Phi Mu Alpha Sinfonia fraternity (Spoeri noted that he wore his fraternity pin while on air). He first became involved with the group at William and Mary and is now serving as President of the Sinfonia Educational Foundation.
Spoeri plans to use some of his winnings to pay back law school loans and said that he has also pledged 10 percent of his after-tax winnings to the Sinfonia Educational Foundation.