Governor Kaine appoints Charles A. Banks to W&M Board of Visitors
Charles A. Banks, former Group Chief Executive of Wolseley, the world's largest supplier of heating and plumbing products, has been appointed by Gov. Timothy M. Kaine to the College of William and Mary Board of Visitors. In addition, the governor reappointed current Board members Suzann Matthews ('71) who has served since 2005 as the Board's Secretary, Sarah Gore ('56) and Thomas E. Capps to second terms.
"Charlie Banks will be as much an asset to the College's Board of Visitors as he has been to the William and Mary community over the past dozen years," said Michael K. Powell, who today chaired his first meeting of the board as Rector. "We welcome and look forward to working with him."
Banks, who was named an honorary William and Mary alumnus in 2005, fills the seat of former U.S. Secretary of State Lawrence S. Eagleburger, who earlier this year completed his second term on the Board. Susan Aheron Magill ('72), also concluded her nine years of service on the Board, including three years as rector.
"With his deep roots in the community and vast experience in the business world, Charlie Banks will be a tremendous benefit to the College," said William and Mary President Gene R. Nichol. "We're also very pleased that Suzann Matthews, Sally Gore, and Tom Capps will continue their good work on the Board. We welcome their continued commitment and also want to thank two of their literally irreplaceable colleagues: former Secretary Eagleburger, who gave generously of himself during two terms on the Board, and Susan Magill, whose service as rector is nearly unparalleled in our College's history."
Banks retired as Group Chief Executive of Wolseley in July 2006. Before being appointed CEO in 2001, he worked for 34 years at Ferguson Enterprises, where he served as president from 1989 until 2001. He was first appointed to the board of London-based Wolseley, which is Ferguson's parent company, in 1992. Banks is also a member of the board of directors of Bunzl, a worldwide distribution company, and of Townebank Peninsula (formerly Harbor Bank), which is headquartered in Virginia.
Banks, long a friend both of the Mason School of Business and William and Mary athletics, already has strong connections to the College. In 1989, he was elected to the William and Mary Mason Business School Foundation Board – where he served as chairman from 1992 until 2001 when his assignment with Wolseley took him to the United Kingdom. During his time on the board, Banks took an active leadership role, including presiding over a comprehensive strategic planning process in 1989. Banks still serves as a special advisor to the business school foundation.
Capps retired as president and chief executive officer of energy giant Dominion in 2005 and currently serves as Chairman of the Dominion Board of Directors. At William and Mary, he serves as chair of the committee on audit and is a member of the committee on financial affairs.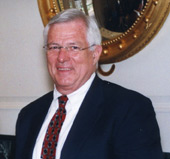 Matthews, a member of the Class of 1971, currently serves as secretary of the Board of Visitors, chair of the committee on student affairs and is a member of the executive committee and committee on financial affairs. She also serves as a member of the board of directors of the Wolf Trap Foundation for the Performing Arts and the William and Mary National Campaign Steering Committee.
Gore, a member of the Class of 1956, served most recently as global leader of the human resources group at W.L. Gore & Associates, a high-tech manufacturing company with nearly 45 plants worldwide. In 1998, she received the Alumni Medallion. She is a member of the Board's committees on academic affairs, audit and buildings and grounds, and also serves on the Campaign for William and Mary's Steering Committee.