Forum to focus on new global threats
Nuclear Jihad: New Threats in a New Century is the topic for a thought provoking address to be given by David E. Sanger at the third annual Global Forum in Williamsburg.  A reception and seated dinner will precede his talk at the event to be held on Sunday, October 22 at the Colonial Heritage Clubhouse.  Reservations are required.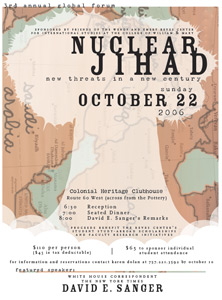 During Mr. Sanger's 24-year career as a journalist, he has reported from abroad on issues surrounding foreign policy, globalization, nuclear proliferation, and Asian affairs and has written extensively on those issues in Japan and Southeast Asia.  He was one of the first to report on North Korea's secret nuclear weapons programs and continues to cover proliferation issues from Washington.  Sanger is currently the White House Correspondent for the New York Times, is a regular panelist on the PBS news program, Washington Week in Review and has twice been a member of Times reporting teams that won the Pulitzer Prize.  He was also the 2004 co-recipient of the Weintal Prize for diplomatic reporting for his coverage of the Iraq and Korean crises.

Sponsored by Friends of the Wendy and Emery Reves Center for International Studies at the College of William and Mary, the Global Forum series benefits the student study-abroad scholarships and faculty research initiatives throughout the world.  During the last academic year, more than 600 William and Mary students studied abroad and 50 faculty members were awarded research support.

For further information and to make reservations for the Global Forum, please call Karen Dolan,
(757) 221-3592.  Tickets are $110 each: $45 is tax deductible.  In addition, a student may be sponsored for the event for $65 (non-tax deductible).  The reservation deadline is October 10.