College history major named 2006 Gilder Lehrman scholar
David Williard ('07), a history major at the College, has been selected as one of 15 students out of an applicant pool of 300 undergraduates nationwide to be a 2006 Gilder Lehrman History Scholar. As a recipient of the honor, he will spend six weeks this summer in New York City, where he will be conducting research based upon the unique—and in some cases unpublished—letters of Frederick Douglass, the 19th-century abolitionist.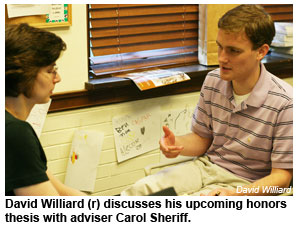 Williard called his selection a "significant opportunity" that will aid him as he ultimately pursues a doctorate in history. He credits the recommendations and the support of Carol Sheriff and Melvin Ely, professors of history at William and Mary, in helping him achieve the scholarship. He was making plans to begin research on his senior honors thesis with Sheriff, who will serve as his adviser, when she informed him of the Gilder Lehrman scholars program. She helped him stay abreast of the application process even as he spent last semester studying at the University of St. Andrews in Scotland. He also suggested that his experiences conducting research with Sheriff as a Christopher Wren fellow during the summer of 2005 and with David Holmes, professor of religious studies, during previous semesters contributed to his successful application.
"For my honors thesis, I will be writing about the culture of obligation and reciprocal dependence that a lot of scholars of the antebellum South said existed in the pre-Civil War years, and I will be trying to see if that culture, or anything like it, manifested itself in relationships between Confederate officers and soldiers in Robert E. Lee's army," Williard said. "The reason I'm pursuing such an arcane topic, if you will, is that it holds a lot of significance as to whether the war really changed Southern society."
Although he does not see study of the correspondence of Douglass as being directly related to his honors thesis, Williard notes that "Douglass was known as a critic of the roots of Southern society who portrayed it as being absolutely crippled by the institution of slavery." He believes that developing a broader appreciation of Douglass will help him expand the context in which he is able to determine whether or not Southern gentlemen enjoyed the attitude of deferment from non-privileged members of Southern society after the end of the war in 1865.
About the scholarship recipients, James G. Basker, president of the Gilder Lehrman Institute of American History, said, "These are the brightest young historians in America. We see them as something like Rhodes Scholars among history majors. We hope this spurs them all to consider careers as scholars or public historians in the future."
Now in its fourth year, the Gilder Lehrman History Scholars Program has included students who have gone on to history doctoral programs at Columbia University, the University of Michigan and the University of North Carolina. Some now work for history research organizations. One is a winner of the renowned Marshall Scholarship and another was awarded a Gates Scholarship to Cambridge University.
Applicants to the 2006 program represented 195 colleges and universities across the United States and Canada. Founded in 1994, the Gilder Lehrman Institute of American History promotes the study and love of American history. Increasingly national and international in scope, the institute targets audiences ranging from students to scholars to the general public. It creates history-centered schools and academic research centers, organizes seminars and enrichment programs for educators, partners with school districts to implement Teaching American History grants, produces print and electronic publications and traveling exhibitions and sponsors lectures by eminent historians. The institute also funds awards including the Lincoln, Frederick Douglass and George Washington book prizes and offers fellowships for scholars to work in history archives, including the Gilder Lehrman Collection. For more information, visit www.gilderlehrman.org.