College appoints new Assistant Director of Economic Development
The College of William and Mary announced today that Leonard Sledge has been appointed Assistant Director of Economic Development. He will assume the responsibilities of the position in January of 2007. Sledge will play a lead role in managing projects and identifying grant opportunities. His responsibilities will also include working with faculty and local companies in the areas of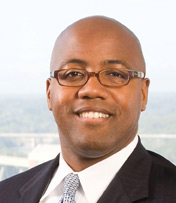 manufacturing and workforce development. Sledge will report to Jim Golden, Associate Vice President of Economic Development.
"Leonard's strong background in workforce development and manufacturing, his demonstrated leadership, and his ability to build consensus will be a real asset to our office," said Golden. "I think he will be able to jump right in and help us work even more effectively with industry and our other partners."
The Office of Economic Development facilitates public-private-university partnerships that strengthen the university and contribute to local, regional and state economic development. It currently coordinates several projects focused on Greater Williamsburg, the Chesapeake Bay, sensors research in Hampton Roads, and the development of a World Class Maritime Center in Portsmouth, Virginia.
Sledge will also coordinate William and Mary's participation in the development of the Discovery Center, a collaborative program with Thomas Nelson Community College. Thomas Nelson's regional workforce director and two high-tech classrooms will be located with William and Mary's Technology and Business Center in a new building, Discovery II, in New Town, just west of the William and Mary campus. The Center is expected to open at the new location in the fall of 2007.
Before coming to William and Mary, Sledge was the Director of the Institutes of Excellence in the Workforce Development Services area of the Virginia Community College System (VCCS). Prior to joining the VCCS, he worked with the Maricopa Community College District (MCCD) in Greater Phoenix, Arizona. Before assuming his responsibilities at Maricopa, Sledge managed front-line manufacturing operations for several computer chip manufacturers.
Sledge holds a Bachelor of Science degree in General Science from Morehouse College, a Bachelor of Industrial Engineering degree from Georgia Institute of Technology, and a Master of Business Administration degree from the University of Phoenix. He and his wife Tiffanye have three children - Amariah, Solomon, and Simeon.