President Taylor Reveley sent the following message to the campus community June 17, 2016 - Ed.
Dear William & Mary Community,
With a very heavy heart, I report that Thomas A. Graves, Jr., William & Mary's 23rd president, died early this morning.  Tom is survived by his beloved wife, Zoë.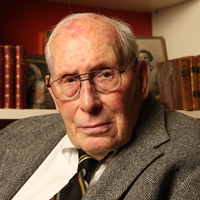 William & Mary thrived under President Graves' leadership from 1971-1985.   During his presidency, the Muscarelle Museum of Art was established, a new W&M Law School building was constructed, and William & Mary launched its first major fund-raising campaign.  Alongside these and other steps forward for the College, Tom fostered a strong sense of community among William & Mary people.
In 1988, the Board of Visitors named him President Emeritus, and, just last year, the university bestowed an honorary degree on Tom during the Charter Day celebration.  Please read the news article about his presidency and legacy that appears on the W&M website.
President Graves will live on in the annals of William & Mary and in the hearts of those who knew and loved him.
Taylor Reveley