Memorial planned for Anne Kimball Davis '16
Update: A Celebration of the Life of Anne Davis '16 is planned for Friday, Sept. 23, at 4 p.m. in Andrews 101. All are welcome. Conversation and refreshments will follow at the Wesley Foundation at 526 Jamestown Rd. For additional information please visit http://goo.gl/1zhSBa or contact Calandra Waters Lake at waterslake@wm.edu    
Vice President for Student Affairs Ginger Ambler sent the following message to the campus community July 15, 2016 - Ed.
Dear William & Mary Community,
It is with deep sadness that I write with news of the tragic death of Anne Kimball Davis '16.  Anne was struck by an automobile in Idaho on the evening of Wednesday, July 13 while cycling from Virginia to Oregon with Bike & Build, a national non-profit that benefits affordable housing.  Having completed her degree with majors in both Sociology and Environmental Science & Policy, Anne was to have begun work next month at William & Mary as the Hunger and Nutrition Fellow in the Office of Community Engagement.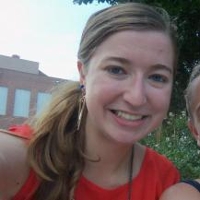 While a student at William & Mary, Anne was especially passionate about social justice issues and the environment. Well known as an engaged member of the Student Environmental Action Coalition (SEAC), she was a devoted and vocal advocate for sustainability efforts at the university, including leading Earth Week 2015, serving as an EcoAmbassador and taking part in many other environmental and service-related initiatives across campus and beyond.  In reflecting on her role as a leader in W&M's Branch Out Alternative Breaks program, Anne once wrote about the importance of "working towards becoming active citizens who are intentional, inclusive, and willing to put in the effort to build relationships that work toward structural and systemic change."
Since Wednesday's tragic accident, we have spoken with and heard from many of Anne's friends. Those who knew her best admired her for being "passionate about building a more just society from the bottom to the top . . . She also greatly enjoyed dance, music, art, and recently had taken a liking to theater after taking an acting class on a whim." 
"Anne was a blessing to us all," wrote a beloved friend, "and we miss her dearly. In the absurdity and tragedy of her death, we must remember her life. She lived with grace, curiosity, passion, and an unmatched optimism. Even though she is gone, she will live on through our actions and memories. We often tell one another 'One Tribe, One Family' in the wake of crises and death, and Anne loved William & Mary; she would likely have reminded us to live by it even when we are not in times of crisis. Community is not something we simply have, it is something we join, build, and rebuild. When someone asks you about Anne, say how she lived and how she lives on in you, not only how she died."
We do not yet have information from the Davis family about funeral arrangements. Once those details are finalized, we will share them via the Office of Community Engagement (OCE) website and the OCE Facebook page.  In the meantime, Anne's friends wish to compile memories, stories, and photographs in the hope of producing a publicly available scrapbook and a digital album. Please send any submissions to bmolinger@email.wm.edu.  Anne's death is a heartbreaking loss for so many who knew and loved her.  Please join me in extending deepest sympathy to her family and friends.  
Sincerely,
Ginger Ambler
Visitation will be Wednesday, July 20 from 2 to 7 p.m. at Woody Funeral Home (Huguenot Chapel), 1020 Huguenot Road, Midlothian, Virginia 23113. The funeral will be on Thursday, July 21 at 11 a.m. at Bon Air United Methodist Church, 1645 Buford Road, Richmond, Virginia 23235.