Parking and road closures for Colonial 5K
The Colonial Half Marathon originally scheduled for this weekend is cancelled; however, the shorter 5K race and fun run will still take place on campus this Sunday.
T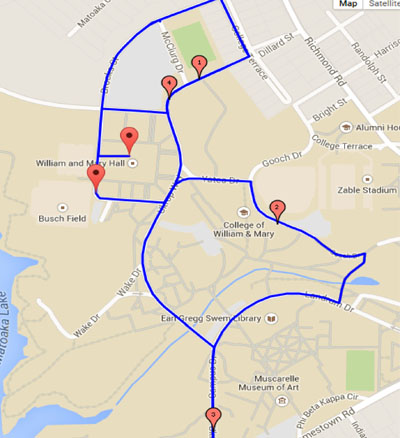 o accommodate the race, current conditions called for a slight modification of the course requiring full road closures. On Sunday Feb. 22 from 1 to 2:30 p.m., access to campus from Monticello Avenue through Jamestown Road will be closed. Additionally, access to campus from Richmond Road onto Brooks Street, Dillard Avenue, and Gooch Drive, as well as access from Jamestown Road onto Landrum Avenue will be restricted.
The parking spaces along Brooks Street from Ukrop Way to McClurg Drive will also be closed to parking beginning at 7 a.m.
The College Green Line will not run from 1 to 2:30 and the Williamsburg Trolley will be diverted around campus. Both lines will resume their normal scheduled routes upon completion of the race.
Bill Horacio III
Director, Parking & Transportation Services