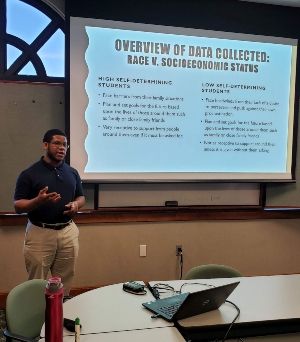 Delharty Manson
Class of 2022
Project Title: Agency, Self-Determination and the Experiences of Black Students

Research Report
Multiple studies show that black students underperform their white counterparts in school due in part to teacher-student relations, personal challenges, and environmental factors. Another factor in the discrepancy between white and black students is the level of self-determination each student has. Self-determination is an internal set of skills a student may have to exert more control over the outcomes of situations in their lives based upon their preferences, needs and desires.
A theoretical conceptualization of self-determination comes from the Casual Agency Theory which evaluates how students with disabilities exert control over their educational outcomes. The research I conducted this summer is based on the "casual agency" theory in the context of black students.
The professor I am working with, Janise Parker, conducted interviews of sixteen black high school students during the 2019 spring semester. Four students were chosen from each grade. Two males and females with high self-determination skills, and two males and females with low self-determination skills.
Students who volunteered were placed in their respective categories based on a test given to them. I have taken the transcripts of those interviews and coded them based on a table of common answers. From my reading so far, the greatest barriers to students in terms of the difference between high scoring and low scoring self-determination students is their personal weaknesses.
Most high self-determining students face barriers from their family situations, whereas low self-determining students face headwinds from their own desire to persevere and push against their own procrastination of self-fulfilling prophecies of laziness in the classroom.
However, the situations that black students face are handled similarly no matter if they have high or low self-determination. Finally, all of the students plan and set goals for the future based upon the lives of those around them such as family or close family friends.