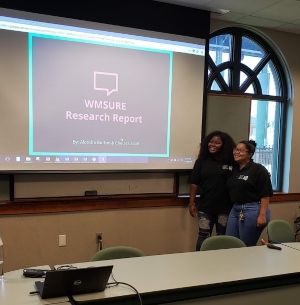 Alondra Burton
Class of 2022
Project Title: Traumatic Stress and Risk Resilience in First Generation College Students

Research Report: Alondra Burton and Chelsea Scott
In the spring semester of freshman year, I began working on a project titled, Traumatic Stress and Risk Versus Resilience in First-Generation College Students. Being a first-gen student myself, I was very interested in stressors that may be specific to first-generation students.
Participants completed a baseline survey before entering college. The survey contained questions that prompt responses about demographic characteristics, ethnic and socioeconomic identity, social support, help-seeking beliefs and behaviors, and beliefs about the likelihood of completing college. The information could be tailored for organizations on our campus to assist incoming scholars who may be first-generation and affected by trauma, perhaps by contributing to workshops on social support for students affected by trauma. Furthermore, the study results would help other academic institutions to create more first-generation friendly campus climates, providing safe spaces for first-generation students to thrive.
Working in Dr. Burk's lab my focus transitioned to a more clinical aspect of psychology. Using rat models, we measure the role of cholinergic and orexinergic systems on attention. Understanding the effect of these systems on attention helps us learn which treatment methods may be more or less effective for diseases such as Alzheimer's. Using that information we may be able to find better treatment options for Alzheimer's as well as other attention-based diseases in humans.