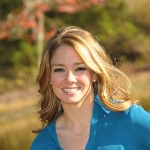 Student Quote: "She gives great advice without cornering a student to pick a certain pathway. She is always willing to listen and supportive of choices that will help the student succeed. She is thorough and always leaves the students with an email following up on everything that was mentioned in the meeting. She is warm and inviting and easy to talk to. A great advisor for any freshman that walks through her doors."
Ashleigh Everhardt Queen is the 2020 Monica Potkay Advisor of the Year.
Ashleigh Everhardt Queen is a Senior Lecturer of Kinesiology & Health Sciences. She has an educational background in Biology and Higher Education Administration.  Ashleigh earned a Bachelor of Science in Biology and a Master of Science in Biology from the University of North Carolina at Charlotte.  Her research in her master's program was centered around understanding differential immune responses in male and female mice when exposed to a bacterial challenge.  Ashleigh also holds a doctoral degree in Higher Education Administration from the William & Mary School of Education
Student Quote: "She made me feel like I was in control of my own path, and guided me when I didn't know what to do. I changed my mind about being pre-med and this didn't phase her at all.  She simply helped me adjust my plan in a way that was best for me. I'm sad that she isn't in the department of my intended major because I would love to continue my major advising with her."
Her doctoral thesis investigated the perceptions that STEM transfer student have about the impact of academic advising within their declared major.  Ashleigh currently teaches courses that relate to human physiology and also serves as a Pre-Health advisor to Pre-Nursing and Pre-PA students at William & Mary.