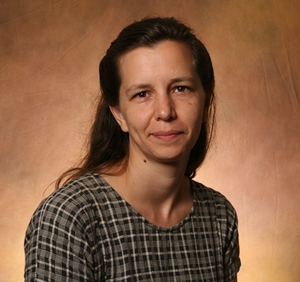 Professor Anya Lunden is the 2019 Monica Potkay Advisor of the Year.
Anya Lunden is an Associate Professor of English, where she is a linguist who studies phonology and linguistic manifestations of schizophrenia. She regularly teaches a COLL curriculum course called The Study of Language, and courses in phonetics and phonology.
Student Quote: "Professor Lunden was always available to meet whenever I needed help and took the time to explain my major requirements and explore possible paths with me. She went above and beyond helping me find a research opportunity, which opened so many new doors to me."
At the end of each academic year, we survey our new students about their advising experiences, and in this survey we offer them the opportunity to nominate their advisor for Advisor of the Year. Five of Anya's advisees nominated her, which is a record! They all commented on her level of caring and preparation, and how their own experiences at William & Mary have been positively affected by working with her.
Student Quote: "She consistently went out of her way to help me find the answers I needed and connect me to the right offices and resources and was always kind even though my questions were extra difficult."
In terms of securing her this award, however, this following comment from an advisee proved to be the clincher: "There is no one who I can think of who deserves this award more than my advisor. She helped me whenever I needed help no matter what. She always seemed happy to meet with me and discuss any concerns that I have. Please give her this award. I want others to realize how great of an advisor she is. She went through all these courses with me and took all this time out of her day just to help me. Although she does not specialize in my major, she still knew a lot about it and would do her own research to learn more about it and to be better prepared just for me."
How could we possibly say no to that? We don't, and therefore with great pleasure we present Professor Anya Lunden with the Monica Potkay Advisor of the Year Award.