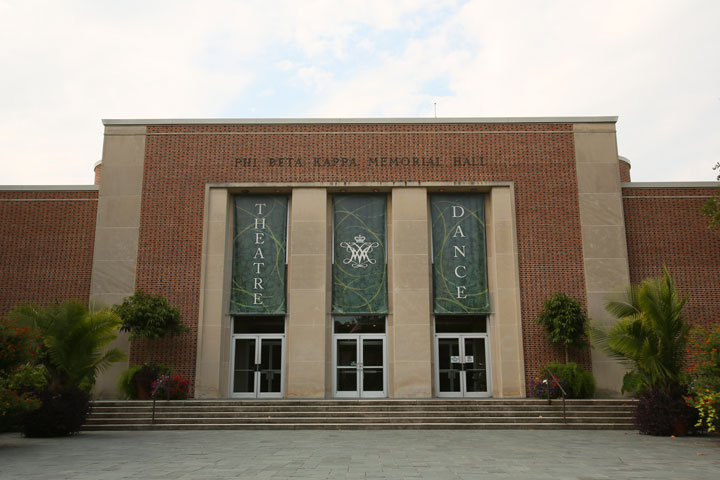 Phi Beta Kappa Hall is located at 601 Jamestown Road, between
Barksdale Field and the Muscarelle Museum. The department's main office is in room 126.
PBK Hall is #134 on the campus map
Phi Beta Kappa Memorial Hall will be undergoing major renovations beginning May 2018. During renovations, the Department of Theatre, Speech &Dance will relocate to office space in Morton Hall; while performances and the box office will be housed at the historic Kimball Theatre on Duke of Gloucester St. (in downtown Williamsburg). Please check faculty and staff pages for specific office locations - office phone numbers will remain the same. 
Driving Directions
Driving directions via Google Maps...
Directions from College Corner
From College Corner (the V intersection of Jamestown and Richmond Roads), proceed west on Jamestown Road to Phi Beta Kappa Circle on the right. Phi Beta Kappa Hall is directly ahead.
Parking
Visitors are encouraged to obtain a Visitor Parking Pass, available for a fee from Parking Services at 201 Ukrop Way. With a Visitor Parking Pass, you can park in any campus space designated for visitors, faculty/staff, or students (unless restricted "at all times"); and, if appropriate, at any space reserved for the disabled.
Metered spaces, very few in number, are also available to visitors. Campus parking is regulated and closely enforced from Monday at 7:00 am through Friday at 5:00 pm. Other times, unless the spaces are subject to specific restrictions, campus parking is open to the public.
In many areas adjacent to the College, street parking is subject to certain restrictions. Read the signs carefully to avoid being ticketed.
Flight Travel
Three airports are convenient to Williamsburg: Richmond International Airport (RIC), Norfolk International Airport (ORF), and Newport News/Williamsburg Airport (PHF). Richmond and Norfolk are each about an hour from the College by car; Newport News is about 40 minutes. Keep in mind that there is a tunnel between Norfolk and Williamsburg, which can sometimes cause traffic delays. All airports offer shuttle service to Williamsburg and the College.
Train Travel
Amtrak offers train service to Williamsburg and can be a convenient way to travel from the northeast corridor. The station is about a fifteen-minute walk from College Corner.