W&M alumna elected to Virginia Supreme Court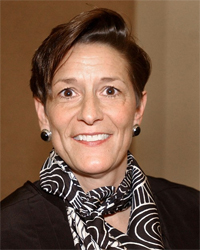 Alumna and former William & Mary Board of Visitors member Elizabeth A. McClanahan was elected to Virginia's Supreme Court by the General Assembly, Gov. Bob McDonnell announced Friday.
McClanahan and Cleo Powell, the first black woman appointed to the Virginia Supreme Court, fill two seats left vacant after the retirement of Justice Lawrence Koontz and the death of Justice Leroy Hassell in February.
McClanahan graduated from William & Mary in 1981.  She double majored in government and sociology, and was also a member of the Delta Gamma sorority. McClanahan previously worked as a partner at the law firm Penn, Stuart & Eskridge and served as Virginia's chief deputy attorney general before being elected to the Virginia Court of Appeals in 2003.
"Judge Elizabeth McClanahan, who has served our Commonwealth as Chief Deputy Attorney General and on the Court of Appeals of Virginia, brings valuable appellate experience and legal acumen to the Supreme Court of Virginia," Gov. Bob McDonnell said in a written statement on Friday.
From 1998 – 2001, McClanahan served on William & Mary's Board of Visitors. During her term on the Board, McClanahan served on the Executive Committee and the Committee on Audit, and was appointed to the ad hoc Committee to Examine Board Operations. She served as Vice Rector of the College from July to November 2001. She is the former chair of the State Council of Higher Education for Virginia and the recipient of numerous civic awards, including the YMCA Tribute to Women Award for Volunteer Community Service and the Virginia 4-H Foundation Alumni Award.
McClanahan graduated from the University of Dayton School of Law in 1984.