Rachel Smith '10: Driving into the future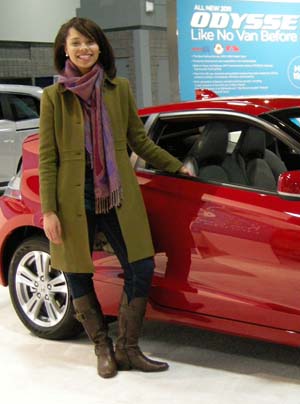 It's something that nearly all of us must use on a daily basis, and something that some of us really enjoy. Its introduction into mass production changed our society, and is often the reason why perfectly normal people lose control of themselves on "The Price Is Right." Like it or not, the automobile has woven itself into American life, and it will always be an important part of the way we live. It is cars, trucks and SUVs that Rachel Smith '10 toils to review and write about.
"The main thing that I do is write car reviews," says Smith of her job at U.S. News. "Our four editors are responsible for different classes of cars, and I cover affordable small cars, upscale small cars, compact SUVs and their luxury counterparts. I also cover important news in the industry such as vehicle recalls, new models and safety regulations. Recently, I wrote an article about how more people 'web and drive,' or use the Internet on their smartphone while they're behind the wheel. Everything we do is consumer focused."
Her job at U.S. News in Washington, D.C., started as an internship, which was supposed to last until August 2011, but in December 2010, four months after she started, the management decided to hire her as a full-time editor.
Smith describes her job in terms that most college graduates can easily understand.
"Basically, we write a research paper on the cars in our classes," says Smith. "We have a system called CMS where we log articles automotive editors have written. So, if Car and Driver has done a review on the Honda Fit, and a number of other people have, we log those articles into the database. We score and quote the reviews that we get, and use that information to write a review."
While at William and Mary, Smith double-majored in linguistics and sociology, and feels that her job at U.S. News is a perfect way to blend her passion for service and her love for communications.
"I had never considered writing about cars," admits Smith. "I never read Car and Driver or Automobile Magazine, but the more I do, the more I like it. Since I cover models most people can afford, I help average Americans find the best cars for their money and their lifestyles. I started out [at internships] with nonprofit work, and recently, I realized that what I do now relates to what I did as an intern. Nonprofits help their clients with a particular need.
"Helping consumers find a car isn't that different than getting funding for educational programs in my community. Most everyone owns a car, and I help consumers, my clients, find the perfect car for their families and their budgets. It's the non-profit aspect of what I do."
Smith says that for her, writing and editing has always been one of her passions, and she really enjoys working with her team. She also says that her days in D.C. are often filled with introductions and the chance to reconnect with fellow William and Mary graduates in the area.
"I found out about this job through a William and Mary graduate, and I want to be able to do that for someone who graduates a few years after me," says Smith. "It's encouraging to know that students who have graduated from the College go out into the world and do what they've always wanted to do."
The full version of this article appeared as a "Tribe Spotlight" feature by the W&M Alumni Association.