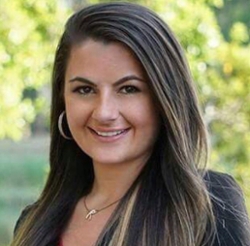 Jolene Vincent
Lecturer of Sociology
Jolene Vincent: Morton Hall 213
Email:: [[jvincent]]
Research Areas: Homicide; Human Trafficking; Domestic Violence; Racial & Gender Disparities in Crime

Areas of Specialization
Criminology; Lethal & Non-Lethal Violence; Deviance; Quantitative Methods
Education
B.A. in Sociology, University of Central
M.A. in Applied Sociology, Domestic Violence Track, University of Central Florida
Ph.D. in Sociology, Crime and Deviance Concentration, University of Central Florida

Honors and Awards:
Love of Learning Award, Phi Kappa Phi Honor Society, 2018
Best Graduate Student Paper Award, Department of Sociology at the University of Central Florida, 2017National Excellence in Leadership Award, National Society of Leadership and Success, 2013

Research:
As a sociological criminologist, Professor Jolene Vincent's primary research interests focus on lethal and non-lethal violence using quantitative and qualitative methods. Pursuing research on social and structural predictors, consequences, and criminal justice responses to crime and violence are overarching goals as her research aims to analyze various sociological and criminological characteristics of violent crimes to be better able to predict, prevent, and control crime. She is currently expanding her work to analyze these influences on crime among minority populations. Stemming from her Ph.D. dissertation, Jolene's current work also uses empirical evidence from analyses of 1,258 recent serial killers in attempt to provide a better definition of serial murder, examine and expand previous theoretical approaches, and revisit many myths surrounding the crime to determine how these factors each influence law enforcement investigations and homicide clearance rates.
Jolene's research appears in a refereed book, Human Trafficking: A Systemwide Public Safety and Community Approach, Goltz et al. (Eds.) (West Academic Publishing, 2017), as well as peer-reviewed manuscripts in Deviant Behavior and the Journal of Forensic Sciences. Her discipline-related memberships include the Homicide Research Working Group, the Atypical Homicide Research Working Group, the American Society of Criminology, the Southern Sociological Society, the Southwestern Social Science Association, and numerous honor societies.