Campus757 Internship and Employment Information Session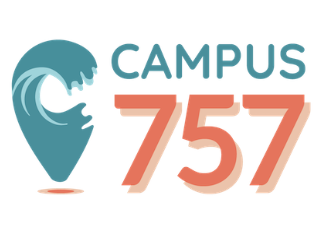 On Thursday, February 9, 2023, the Wren Building was proud to welcome several representatives of the Hampton Roads-based organization Campus757, a program of the Hampton Roads Workforce Council. Campus757 works with local universities and employers to keep college graduates in the Hampton Roads region, and connect them to internships and employment opportunities that fit their interests and career paths. The program works to combat the flow of college-educated professionals from the Tidewater area post-graduation, and giving information sessions such as this one at local universities is just one of the ways they do so. A robust group of interested students heard from various speakers, including the program's Director, Jaedda Hall, and its Coordinator at the Hampton Roads Workforce Council, Rikki Carretta.
Students were encouraged to share their biographies and ask questions they had about obtaining internships or employment in the region. They were lively in this regard, and a good portion of the time was taken up with the speakers' answers. The speakers also asked questions of their own, seeking to probe the minds of the audience as to why Hampton Roads' college graduates so often depart upon receiving their degrees; they received several commendable answers, the most candid of which being 'they follow the money'. The speakers did take time to unpack this answer, pointing out that there are a multitude of employment opportunities right here in the 757 that yield both professional challenge and the chance for advancement. The event was particularly helpful to our own Religious Studies majors, who often worry about finding work, whether internships during college, or careers after graduation. It was wonderful to see them given a forum for their questions and an opportunity to perhaps alleviate that concern. The event was made possible only through the efforts of Hillary Dickinson (W&M Religious Studies '15) and Dr. Alexander Angelov. Visit the Campus757 website here to learn more about their work connecting college students to jobs in Hampton Roads.