Intern Profile - Hana Sayeed, MPP '17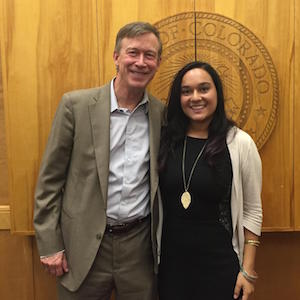 Hana Sayeed is the recipient of the 2016 Brenna Vorhis Award.  The Endowment was established in 2013 in honor of Brenna Jean Vorhis, a first-year student in the W&M Public Policy Program at the College of William and Mary who passed away in January 2013. The Endowment honors Brenna's memory and her passion for public policy, the environment, and music and the arts.
In Hana's words, here is an account of the work she did:
"I interned in the Colorado Governor's office in Governor Hickenlooper's administration. I worked on the Performance Management Team with the Governor's Budget Office and the Lieutenant Governor's Operations team. I helped drive state government action toward achieving the Governor's five key goals for the state as well as worked with state government departments on crafting and analyzing annual performance plans. I also worked to translate key policy initiatives and goals for the state into consumable themes for Coloradans."