Policy Dialogue in DC - National Security Reform
Each year, graduate students in the Thomas Jefferson Program in Public Policy (TJPPP) have the opportunity to travel to Washington
D.C. once a month and engage in a dialogue with policy experts. On Friday, September 21st, eighteen TJPPP students participated in the first policy dialogue of the 2007-08 academic year. Three distinguished individuals addressed the students on the issue of national security reform, specifically on the need for federal agencies to cooperate with each other to promote national security.
James Locher, Executive Director of the Project for National Security Reform (PNSR), emphasized the need for interagency transformation in order for the United States to effectively address international security threats. According to Locher, the federal government lacks sufficient horizontal interaction between the Defense,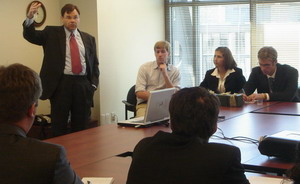 State, Justice, Treasury, and other departments. Furthermore, he pointed out that common procedures and terminology do not exist across departments and agencies, resulting often times in confusion.   Rather, these departments often come in conflict with one another instead of helping each other. And while the national security apparatus of the US has changed little since the National Security Act of 1947, global conditions have changed dramatically in those 60 years. To deal with these deficiencies, the PNSR is proposing significant reforms, with particular focus on more effective planning, execution, and oversight of interagency operations. Locher aims for this reform to take place after the next president is sworn in.
Christopher Lamb, Research Director of the PNSR, echoed many of the same points discussed by Locher in the earlier session. Lamb, who spent many years in the Pentagon, brought his experiences to light by presenting anecdotal stories which exemplified the need for broader interagency cooperation. His main point was that leaders accomplish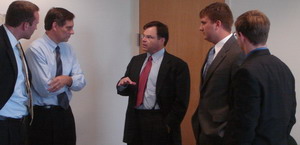 successes by going around the current national security system, not by working through it. The PNSR, on the other hand, wants less emphasis to be put on the efforts of a strong leader and more emphasis on a system that provides mechanisms for good leaders to emerge and succeed within the system. As an example of this, Lamb pointed out his experiences with former Secretary of Defense Donald Rumsfeld. While he was a strong proponent of national security reform and broader interagency cooperation, Rumsfeld nonetheless continued to operate around the broken national security system rather than through it.
Finally, Larry Wilkerson, former chief of staff to Secretary of State Colin Powell, engaged in a casual discussion with the students on a wide range of topics, mostly focusing on the recent testimony of General David Petraeus on the state of affairs in Iraq. The students appreciated Wilkerson's willingness to talk straight with them on issues that are of greatest concern to them.
Special thanks to Drew Cramer, who interned with the Project on National Security Reform during the summer of 2007. He was instrumental in arranging for the speakers to attend this policy dialogue.
Pictures by Geoff Peck '08